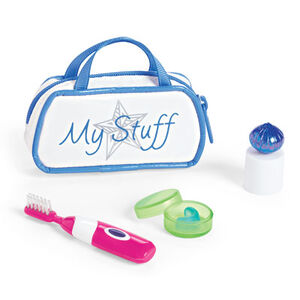 The American Girl Sleepover Kit is a Just Like You accessory set released in 2007 and retired in 2009(?). Retail cost was $16.
Toothbrush
Hot pink plastic toothbrush with white bristles.
Retainer
Blue rubber-like faux retainer.
Case
Green retainer case.
Bottle
White plastic container with faux blue plastic lid.
Bag
White vinyl cosmetic bag. Blue zipper and nylon handles. Star graphic and "My Stuff" printed on the side.
Trivia
The toothbrush and retainer were reused for the Healthy Smile Set. However, the later edition of the toothbrush is orange with an AG star on the white stripe. The reissued retainer case is blue instead of green and it also has a star logo on the lid.
See Also