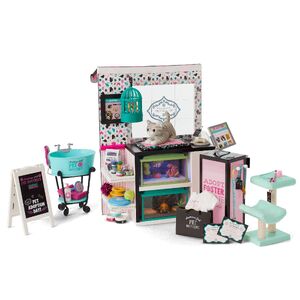 The American Girl Pet Boutique is a Truly Me accessory released in 2020. Retail cost is $250.
Store
Shopping Bag
Certificates
Leash
Monitor
Monitor Screens
Card Swiper
Credit Card
Dollar Bills
Towel
Treat Platter
Bed
Brush
Shampoo
Cat Tree
Kitten
Terranium
Tortoise
Aquarium
Cat Food
Dog Food
Wand Toy
Spinning Toy
Disk Toy
Lovebirds
Posters
Chalkboard Sign
Frame
Sales Tags
Stickers
Bath Tub
Light teal plastic tub with "American Girl Pet Boutique" logo printed on front in black and dark teal with pink paw print. Back of tub has silver plastic faucet handles and an attached white and pink plastic spraying hose.
Tub Stand
Black plastic stand for tub. Tub fits on top and bottom has teal shelf for other storage. Swirl design at top and bottom of tub supports.
Trivia
See Also