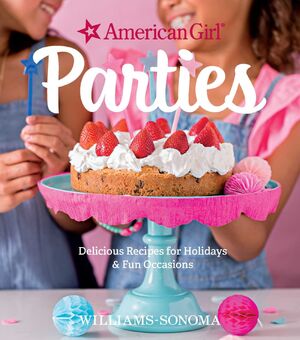 American Girl Parties is an American Girl cookbook made in partnership with Williams-Sonoma and released in 2017. Retail cost is $19.95.
Sections
Sweetheart Party
Granola Hearts with Almonds and Cranberries
Grilled Cheese Hearts
Creamy Tomato Soup with Pasta Hearts
Chocolate Dipped Strawberries
Raspberry Jam Heart Cookies
Garden Tea Party
Flower and Fruit Iced Tea
Bite-Sized Chocolate Chip Scones
Cucumber and Cream Cheese Sandwich Flowers
Butterfly-Shaped Pimento Cheese Sandwiches
Mini Vanilla Cupcakes with Sparkle Frosting
Springtime Celebration
Tie-Dyed Hard-Boiled Eggs
Turkey, Avocado and Havarti Pinwheels
Broccoli and Cheddar Mini Quiches
Honeydew-Mint Aqua Fresco
Carrot Cake Cupcakes
Shining Stars BBQ
Fresh Strawberry Lemonade
Mini Corn on the Cob with Lime Butter
Chicken Sausage and Veggie Kabobs
Ice Cream Sundae Bar
Wake Up to Waffles
Waffles with Lots of Toppings
Cheesy Scramble with Tomatoes and Basil
Yogurt, Berry and Granola Parfaits
Monkey Bread with Cinnamon and Pecans
Birthdays and Burgers
Build-Your-Own Turkey Sliders
Baked Sweet Potato Fries
Mac and Cheese Cups
Make-Your-Own Milkshakes
Chocolate Chip Cookie Birthday Cake
White Chocolate-Dipped Pretzels
Spooky and Berry Delicious
Spooky Berry Smoothies
Cheese Twist "Bones"
Veggie Hot Dog "Mummies"
Chocolate-Orange Checkerboard Cookies
Caramel-Dipped Apple Wedges
Winter Holiday Cookie Party
Gingerbread Family Cookies
Peppermint Brownie Bites
Chocolate-Peanut Butter Drop Cookies
Kitchen Sink Cookies
Hot Chocolate Cookies
Lemon Crinkle Cookies
See Also
Community content is available under
CC-BY-SA
unless otherwise noted.