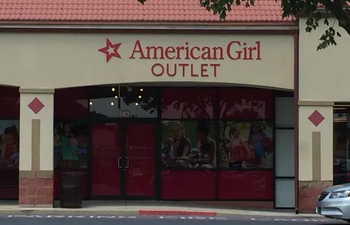 The American Girl Outlet Store refers to two different a discount American Girl store where items could be purchased at lower prices than standard purchase locations, such as American Girl Place or online. There have been two iterations of the store.
In Oshkosh, WI
The first outlet store opened in Oshkosh, WI in 2002. The store closed in July 2016.
In Hershey, PA
The second and current outlet store opened in 2018 at Tanger Outlets.
The outlet carries a variety of clearance items, discontinued items, older out of stock items and newer items in damaged boxes. Truly Me dolls are available but are sold at current full price with no discounts.
The store does not have a hair salon, a bistro, or other services offered at main American Girl Place stores. Due to low prices the outlet does not have sales or accept extra coupons, but AG Rewards can be accumulated and reward coupons can be spent there.
The outlet's closure was announced in 2021, with final closure on September 2021.
Outlet-Exclusive Items
There have been outlet only Truly Me items. Some have been available on the website at later times, generally during sales such as Cyber Monday.
Fashion Accessories

Bagged Lunch Set

Backpack Set