This article is about the product line. For information about the smaller versions of dolls, see Mini Dolls.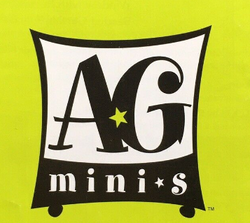 American Girl Minis (also known as A*G Minis or AG Mini Rooms) were collections of miniature rooms.
History
The A*G Minis line was released in October 2000 and was advertised for children eight and over. The basic setup consisted of a light box that could include a clear shield for the front and a drawer to store small parts in. The sets were small and elaborate. Each set had wallpapers, furniture, lights, and other small details to make the room look realistic on a small scale, much like a doll house. A complete room was around $178 (much more than a doll) and decor sets were about $20. Initially, add-on items were separated into categories: "Lil' Basics," "Lil' Pets," and "Lil' Extras."
American Girl dropped the "Lil'" category names for the line in later years. By 2002, the core items were simply called "Basics," and the add-on pieces were separated into "Lights and Electronics," "Pets and Playthings," and "Room Accents." American Girl also began to offer smaller, cheaper set options. For instance, a platform with accessories such as the Rooftop Patio cost $72 and would be a smaller investment for customers than a $178 complete room. Starter versions of full rooms were also available, such as the Loft Apartment Box Set, which contained an Illuma-Room and basic decor for $84. The company also offered platform versions of sets such as the Loft Platform Starter Set for $96.
Minis components went on sale for up to 50% off by April 2003. American Girl released three final items early that year: the Paddock, the Blue Room Add-Ons, and the Purple Room Add-Ons.
The line ended in 2003. Speculation is that much of the electric wiring was defective which either caused electrical shorts or failure to work. According to former employees, the line was discontinued following the purchase of Pleasant Company by Mattel due to the high cost of manufacturing.
Lil' Basics
Rooms and Rooftops
Lil' Pets
These are small pets to display in the rooms.
Lil' Extras
These are add-on items not part of any specific set.