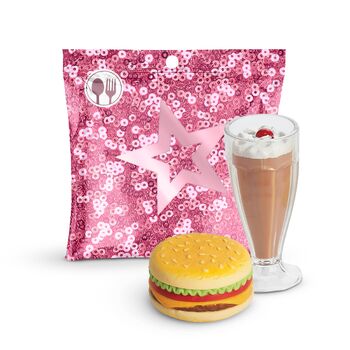 The American Girl Mini Mystery Pack: Snacks is a series of Truly Me blind bag accessories released in 2021. Retail cost is $8 per bag.
Overview
Bags are pink shimmery opaque tear-open blind-packaging bags with a fork and spoon logo, a pink sequin-print background, and the Star Logo on the front. Each bag contains two food items from various accessory sets. Consumers do not know what is inside the bags before purchase and item selection is random, like many other "blind bag"/hidden purchase lines; because of this, American Girl has stated that duplicates may happen and they cannot accept any requests for specific items, nor will they take returns or exchanges on any opened packs.
Potential Contents
Possible contents come in ten options, which two options being rare and harder to find.