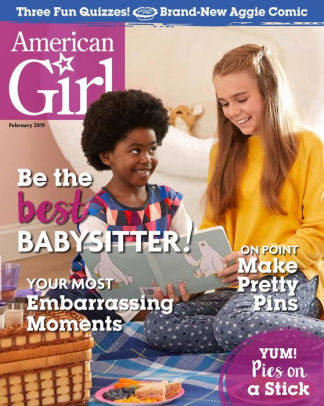 American Girl Magazine was a magazine published by American Girl. The magazine was originally released in December 1992 and discontinued in Janaury 2019, running for twenty-seven years. The magazine was released bimonthly, with six issues per year.
History
In the beginning, the American Girl Magazine was more closely affiliated with promoting the products of the American Girl company. For example, the magazine published various Historical Character Short Stories (which were later collected in book form). The magazine eventually shifted its focus away from the historical characters and more towards articles featuring real-life contemporary girls.
The magazine advertised itself both as an ad-free magazine (which was possible because of the corporation behind it) and a magazine for girls that does not focus on making them grow up too fast or mature too early (like other magazines aimed at tweens or an older teen audience). Beginning with the September/October 2009 issue, the magazine featured more advertisements for American Girl products. The contents page was shrunk to fit an advertisement for American Girl and the behind the scenes page was moved to fit another American Girl advertisement at the back of the magazine. However, there were still no outside advertisements.
In early 2019, the magazine was discontinued. Reasons likely include the decline of magazine subscriptions and purchases in the United States.
Subscription Cost
A one-year subscription retailed at $22.95 through American Girl while a two-year subscription was $39.95. Individual cover issues had higher costs.
Magazine Content
Win It!
"Win It!" is a sweepstakes hosted by American Girl Magazine. The prizes vary with every issue. To enter, one sent in a note card with contact info; the winner was picked at random.
Girls Express
"Girls Express" is a collection of shorter articles, activities, and miscellaneous items for the magazine.
Did You Know?
"Did You Know?" is a blurb found in each issue, which gives a strange or random fact.
The Buzzword
"The Buzzword" is a vocabulary word. The word's pronunciation and definition are given, along with a sentence using the word in context. For a time, the word might have been used in a story or article in the magazine as well.
Creative Corner
"The Creative Corner" is a small section of the magazine that has a cute, easy craft for the reader. The small square can be cut out, with a picture displayed on the front, and instructions on the back.
True Story
"True Stories" are short articles telling of readers' experiences, varying from survival stories to interesting occurrences.
AG Poll
A single poll for readers on various topics, generally relevant to the published issue such as holidays or personal life. While answers originally had to be mailed in, later readers were encouraged to answer online at the website. Results for the most recent poll are posted as well.
Help Wanted
"Help Wanted" is where readers can submit stories, ideas, or other things.
Shining Stars
"Shining Stars" is a segment spotlighting girls who help make a difference in the world. There is a small writeup on each girl, that includes a picture and facts.
Art Gallery
Readers can submit photos, drawings, or paintings to be published in a section called Art Gallery.
Contest
A contest is held in every issue. A few pages display the winners from a previous issue's contest, and a small box in the bottom right-hand corner states the next contest, the requirements, and in which issue the results will be published. Contests usually center around creative, hands-on crafts or other creations. Story Contests were frequently held; girls were encouraged to write a story within certain guidelines.
Heart to Heart
"Heart to Heart" was an opinion section where AG discussed a topic readers want more detail on. This includes opinions (such as on school uniforms) or harder personal issues, such as racism or losing a loved one. Girls are encouraged to send in responses. Up to the July/August 1994 issue, the only contributors were girls from schools the magazine visited. Before the Sept/Oct 1995 the section was called "Talk It Out." Starting with the October/November 2009 issue, girls are encouraged to send in a possible question along with their responses.
Doll Fun
An article that focuses on activities girls can do with an American Girl doll. Its content varies from doll crafts to hairstyles.
Brainwaves
"Brainwaves" (originally "The Giggle Gang") is several pages of jokes, puzzles, and an Answer Box. Readers often submit photos, which American Girl makes puzzles of. The included Laffateria displays jokes from the readers.
Mini Mag
Towards the back of some American Girl magazines, there is a smaller version of the issue with some of the same articles. The pages are to be cut out and stapled, and come with instructions.
Posters
Magazines often have one page (front and back) that make two posters. About once a year, American Girl will have an issue with a giant poster about the size of four pages for the reader to color in. In the past, American Girl has made many issues with multiple posters, or dozens of smaller posters. The posters have cute sayings, pictures, or animals.
HELP!
HELP! is a section in the magazine where readers can write to American Girl seeking advice. These answers are published in the back on several pages, four in some issues. There are several pictures illustrating some of the questions.
Misc. Articles
There are other variant articles in each issue which could be about crafts, activities, parties, stories, and/or advice.
Retired Features
Lunch Box
"Lunch Box" was an article featuring quick and creative snacks - such as Mini Pizzas or Smoothies.
About the Cover
"About the Cover" had the model on the cover discuss and give a few facts about herself. It included a larger picture of the model and the model's signature. This feature was retired around late 2008.
Who's That Girl?
"Who's That Girl" was a section where they gave clues about a female celebrity's childhood and it was up to the reader to guess which celebrity it was. There were five clues, each one telling a different experience the celebrity had when she was younger, and a photo of the celebrity at a young age. The next page would then reveal the celebrity, along with a short article about what she does. Then there's usually some advice from the celebrity following the end of the article. This feature was retired in 2003.
Letters From You
"Letters From You", like Letters to the editor in other magazines, were letters written by readers—often commenting on articles in past issues. This feature was retired in the September/October 2009 issue.
Find It!
"Find It!" were random facts hidden throughout the magazine, marked by a small magnifying glass. In the earlier issues, the magnifying glass would have questions that could be answered by reading the articles in the magazine.
Plays
Small plays starring the Historical Characters would be printed on pages that could be torn out. Much like the Theater Kits, the script would have tips on stage setting, characters, and setting up a successful show. The play would have six to eight characters acting.
The plays involving the Historical Characters have not been republished.
Imagine
Imagine took place at the end of the magazine, right after the last Help! page. There would be a historical painting, typically showing a young girl or children enjoying an activity, such as lighting Chinese lanterns or watching her mother make a doll. The paragraph underneath the painting would give creative details suggesting imagining life as the girl in the painting. This was later replaced with 'True Story'.
Paper Dolls
The magazine used to offer paper dolls of real-life girls who had researched their family history and sent in pictures of themselves and their ancestors to the magazine. The doll varied in each issue and their outfits were based on what their ancestors wore. The paper dolls ended around issue July/August 2000.
A list of almost all of the paper dolls that were published can be found here.
Did You Know?
"Did You Know?" was a blurb found in each issue in the Girls Express section, which gave a strange or random fact.
See: Short Stories
Short stories, before they were published as unique volumes, were published in the magazine. These were phased out around 1996.
Novel or Story Excerpts
Abridged excerpts from various young adult novels and short stories were sometimes published. This also included excerpts from the Central Series when newer characters were released, or sections from Amelia's Notebook.
Friendship File
"Friendship File" was a section about friendships—again, encouraged by readers to send in details about friendships.
See also
Community content is available under
CC-BY-SA
unless otherwise noted.