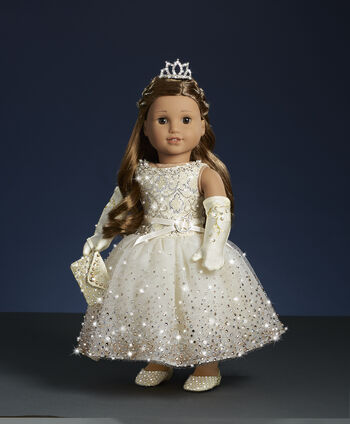 The American Girl Holiday Collector Doll (also known as the One of a Kind Holiday Doll (with Swarovski crystals)) was a Truly Me doll and outfit set released in 2019 in partnership with Swarovski.
Only three sets were made exclusively for the American Girl flagship stores in Chicago, New York, and Los Angeles. Retail cost of the doll set was $5000.[1]
Doll
The doll is a variation of Just Like You 68. The hair is longer--about waist length--and curled at the end.
Gown
A cream and white sleeveless ball gown. Bodice is cream and white brocaded fabric. At waist is white ribbon bow belt with circular plastic buckle on left side. Skirt of tulle over satin. Bodice, belt buckle, and skirt are decorated with several thousand Swarovski crystals.
Tiara
Silver doll tiara. Decorated with multiple Swarovski crystals.
Gloves
Cream elbow length gloves. Gold embroidery for vines and leaves on gloves. Each sleeve has seven Swarovski crystals.
Purse
Cream clutch brocade purse. Ribbon strap. Decorated with Swarovski crystals.
Shoes
Each location's doll had a unique pair of low-heeled shoes decorated with Swarovski crystals.
Trivia
Due to the exclusivity of the design, the dress is not removable from the doll.
Each doll took more than forty hours to design, and each doll is decorated with over five thousand Swarovski crystals.
References