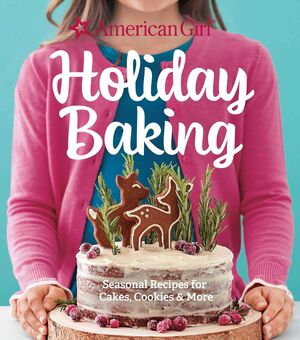 American Girl Holiday Baking is an American Girl cookbook made in partnership with Williams-Sonoma and released in 2019. Retail cost is $19.95.
Sections
Cookies
Peppermint-Dipped Chocolate Cookies
Snowy Gingerbread Trees
Vanilla Sugar Cookies
Peppermint Swirl Macarons
Brown Sugar-Hazelnut Rugelach
Stained Glass Snowflakes
Chocolate-Dipped Almond Florentines
Pumpkin Spice Snickerdoodles
Hot Cocoa Cookies
Raspberry-Almond Linger Bars
Chewy Ginger-Molasses Cookies
Pies and Tarts
Cinnamon-Swirl Apple Pie
Classic Pumpkin Pie
Maple-Pecan Pie with Shortbread Crust
Chocolate-Raspberry Tartlets
Pear and Ginger Crumble
Cranberry Chess Tart
Holiday Star Tart
Cakes and Cupcakes
Spiced Apple and Honey Cake
Cranberry Upside-Down Cake
Snowman Cupcakes
Snowflake Cupcakes
Pumpkin Cheesecake with Gingersnap Crust
Holiday Pavlova Wreath
Spiced Gingerbread with Frosting
Sticky Toffee Puddings
Mini Bûche de Noël
Morning Breads
Sugar-and-Spice Popovers
Chocolate Babka
Pumpkin Coffee Cake with Nut Streusel
Caramelized Pear Oven Pancake
Orange Marmalade Bread Pudding
Chocolate-Almond Mini Loaves
Cranberry-Oat Muffins
Apple Streusel Muffins
Candies and Confections
Raspberry Fruit Jellies
Candy Cane Bark
Mixed Nut Brittle
Dark Chocolate Fruit and Nut Bites
Peanut Caramel Corn
Chocolate-Walnut Toffee
Frostings, Toppings and Pastry
Royal Icing
White Chocolate Frosting
Cream Cheese Frosting
Chocolate Frosting
Chocolate Ganache
Whipped Honey Frosting
Single-Crust Pie Dough
Slab Pie Dough
Tart Dough
Shortbread Crust
Nut Streusel
See Also
Community content is available under
CC-BY-SA
unless otherwise noted.