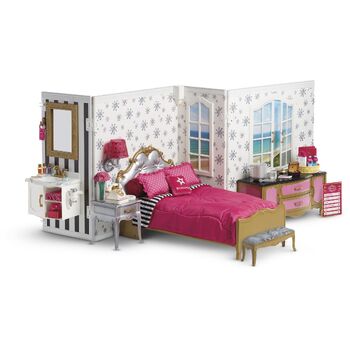 The American Girl Grand Hotel is a Truly Me furniture set released in 2017 and retired in 2020. Retail cost is $275.
Backdrop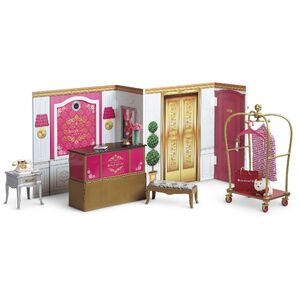 Four-panel backdrop with two large and two small panels. Two of the corners between panels are hinged to fold for storage, the other two are fixed. One side (the inside when folded) is printed to resemble a hotel room. Three of these walls (one small and both large) are covered with wallpaper in a print of dark silver outlined daisies with hot pink centers on a white background. One large wall has a casement window (white framed with golden handles). A matching window that cannot be opened is found on the small wall. Both windows have space behind to slide in window scenes. On large wall without a window, next to the bed, is a removable small working lamp covered by a hot pink shade with black polka dots (batteries included).
Bathroom Area
The other small wall has black and white vertical stripes, a built in rectangular mirror in golden frame, and an attached white vanity cabinet/bathroom sink. Sink has golden faucet features and is set in a countertop of faux black-on-white marble. Three rounded cups in left of counter behind sink to hold toiletries; built in soap dish on right side of sink. One cabinet door with gold handle on left side under sink; right side has two open shelf compartments. Bracket on right side of cabinet to hold hair dryer. Small golden hook to left of mirror for hanging items.
Lobby Side
On the reverse side of the backdrop (the outside when closed) is a lobby scene. Reverse of the bathroom wall shows a red room door labeled "101" with golden hinges and handle. Reverse of lamp wall has print of a golden elevator door with a potted topiary plant to the left of the elevator. Reverse of small window wall has a silver rectangular frame to slide in a poster on a background of pink marble. Reverse of large window wall has a white-framed opening to show the reverse of each window scene behind the front desk. A lamp identical to the working one on the room side is printed on either side of this panel.
Bed
Golden and silver bed frame attached to the wall. Frame rotates upward for storage to fold against the wall. Main frame and foot board are golden colored plastic, headboard is molded and painted to resemble a silver upholstered cushion in a fancy gold frame. Removable white platform to support mattress, space beneath platform can be used to store smaller items.
Mattress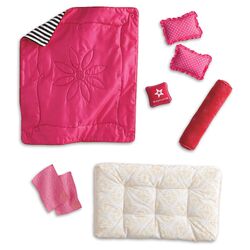 Tufted mattress printed with "AG Grand Hotel" logo in a gold-on-off white toile style pattern.
Comforter
Reversible comforter. One side is hot pink with a large quilted daisy design, the other side is black and white striped to match the bathroom wall. The daisy on the pink side is shaped identical to those on the wallpaper.
Bolster Pillow
Red bolster pillow with hot pink daisy outlines; these match the daisies on the comforter and wallpaper.
Ruffled Pillows
Two hot pink pillows with white polka dots; plain hot pink ruffle around edge.
Throw Pillow
Square red throw pillow with white "American Girl" star logo embroidered on front. Pink trim around the edge.
Combination Dresser
Dresser display: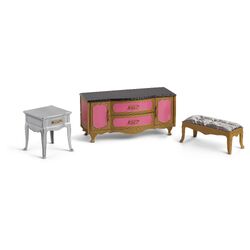 Hotel room dresser with shiny black countertop. Two functional drawers and two cabinet doors. Drawers and cabinets have gold frames surrounding pink panels, and gold pull handles. Right-side cabinet has two shelf compartments, left-side cabinet opens to the interior of a mini fridge.
Front Desk display:
To raise the front desk, the pink-paneled back and sides of the dresser open up, fold down, and snap into place. This exposes hot pink panels with white daisies and the "American Girl Grand Hotel" logo, as well as plain gold panels below those.
Table
Silver night table with a single functional drawer, gold drawer handle.
Bench
Gold plastic bench with removable silver velvet tufted cushion.
Phone
Gold-trimmed white table phone. Phone is styled to look like an old-fashioned rotary dial with spiral cord, but numbers are buttons rather than on a dial.
Vase
Clear plastic vase with "coil pot" imprinted design.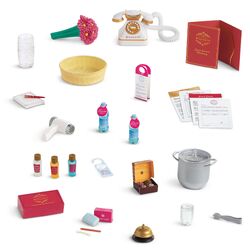 Daisies
Solid plastic bouquet of pretend flowers with green stems, pink petals, and yellow centers. Fits in the vase.
"Do Not Disturb" Sign
Reversible doorknob hang tag; one side says "Welcome" in white letters on a pink daisy-print background, the other says "Please do not disturb" in pink on a pale blue background below a stylized white cloud with "Z Z Z" in the cloud.
Towels
Two pink hand towels with the American Girl star logo embroidered in gold in one corner.
Hairdryer
White plastic pretend hair dryer. Non functional. Silver trim.
Posters
Reversible poster that slides into the lobby frame. One side has a hotel directory pointing to important locations within the hotel, the other side has an abstract pink, black, white, and gold painting.
Window Inserts
On both large inserts, the lobby side is a decorative hot pink panel with the "American Girl Grand Hotel" logo and a silver-trimmed black analog clock, One insert has a window side of a cityscape by night, the other of a seashore by day. The white frame on the lobby side is removable to change the inserts.
Basket
Round light yellow "wicker" basket made of semi-flexible plastic. No handles.
Chocolates
Brown cardstock chocolates box with yellow and red trim and "American Girl Grand Hotel Complimentary Chocolates" on hinged lid. Inside are four pretend chocolates; dark brown with pink and tan each of stripes and speckles. Inside of the box lid says "Welcome to the American Girl Grand Hotel. We hope you enjoy your stay!"
Toiletry Box
Red and hot pink print cardstock box with attached lid. "American Girl Grand Hotel" logo in gold, "Complimentary Toiletries" written below it also in gold.
Soap
Pale blue pretend bar of soap in a hot pink cardstock box. Soap has American Girl star logo imprinted on it, box has white "American Girl" logo with star.
Shampoo
Pretend bottles of shampoo, body wash, and lotion. Hot pink labels with red lettering, golden caps that open. "Shampoo" is orange, "Body Wash" is blue, and "Lotion" is white.
Cotton Swabs
Two cotton swabs, permanently attached to each other.
Nail File
Orange nail file.
Ice Bucket
Silver ice bucket with two handles and clear removable lid with silver knob. Filled with pretend ice.
Tongs
Light gray plastic tongs for the ice bucket. These are similar to the tongs that came with Lea's Rainforest House.
Water Glass
Clear tumbler filled with plastic made to resemble ice water.
Water Bottles
Two transparent light blue pretend water bottles. Light blue caps and labels, picture of a water drop and "Bottled Water" in white letters on labels.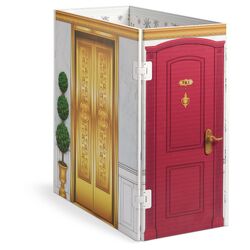 Guest Directory
Red folder trimmed with gold. "American Girl Grand Hotel" logo in gold on front. Inside the three pockets is a menu, two tags for the water bottles, a "Local Guide" paper showing restaurants (including "Grace's Bakery" and "'50s Diner") on one side and attractions on the other, a "Guest Services" paper with a Welcome letter on the back, a "Laundry Services" and "Spa Services" paper, and an invoice.
Notepad
Small notepad of white paper with hot pink edge trim; "Message" at the top in hot pink script.
Pen
Dark red "ballpoint" pen with gold trim.
Service Bell
Functional gold press bell on a black base.
See Also