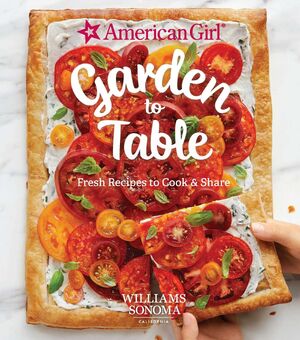 American Girl Garden to Table is an American Girl cookbook made in partnership with Williams-Sonoma and released in 2018. Retail cost is $19.95.
Sections
Veggie Garden
Fresh Tomato Tart
Veggies with Green Goddess Dip
Rainbow Pinwheels
"Cheesy" Kale Chips
Stuffed Summer Bell Peppers
Broccoli and Cheddar Soup
Garden Veggie Minestrone
Zucchini Griddle Cakes
Tempura String Beans
Tomato, Avocado and Bacon Tartines
Pasta Primavera with Buttery Bread Crumbs
Baked Eggplant Parmesan
Cheesy Cauliflower Gratin
Spring Stir-Fry with Veggies and Shrimp
Bread-and-Butter Pickles
Sweet and Spicy Melon with Lime
Herbalicious
Tomato, Watermelon and Mint Salad
Cashew Chicken Lettuce Cups
Tea Sandwiches
Fresh Herb Panzanella
Chopped Caesar Salad
Vegetable and Herbed Goat Cheese Bruschetta
Flower Sandwich Cake
Hodge-podge with Herbs and Polenta
Fruit, Herb and Flower Ice Cubes
Berry Patch
Strawberry Cupcakes
Strawberry Puddings
Blackberry Slab Pie
Mixed Berry Whipped Cream Cake
Three-Berry Cobbler
Fresh Fruit Spa Water
Fruit Orchard
Fresh Peach Salsa
Mini Peach and Cherry Pies
Cherry Juice Sparkler
Peach Ice Cream
Little Plum Galettes
Baked Nectarines with Cinnamon Streusel
Frosted Apple Cake
Inside-Out Apple Crisp
Chunky Applesauce
Harvest Time
Maple-Glazed Roasted Vegetables
Pasta with Butternut Squash and Bacon
Sweet Potato Skins with Cheese and Spinach
Roasted Potatoes with Herbs
Acorn Squash and Chorizo Tart
Citrus Grove
Orangey Quinoa Bowl with Veggies
Pink Orange Cake
Creamy Citrus Ice Pops
Lemon Tart with Raspberries
Sparkling Limeade
Pink Grapefruit Granita
See Also
Community content is available under
CC-BY-SA
unless otherwise noted.