For the modern seasonal collections called "AG Fashion Show," see Modern Mix and Match Sets.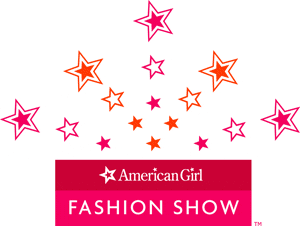 An American Girl Fashion Show was a fashion show partnered by American Girl hosted by various charities and non-profit organizations nationwide to raise money for children's causes.
The production of American Girl Fashion Shows started in 1992 and ended in 2016.
Overview
American Girl Fashion Shows were hosted by non-profit organizations, which included private schools or charities. Many cities and states had at least one show a year, held over the course of one or two weekends. All money raised went to the selected foundation. Tickets ranged in price according to locale. Various sponsors--generally local businesses--helped sponsor the cost as well at various levels, including personal donations.
The fashion show included a meal (breakfast/brunch, afternoon tea, lunch, or dinner) in the ticket price. The following services were offered as well:
Bookstore: Local booksellers offered American Girl Books for purchase.
Photo studio: Girls and their dolls could take photographs.
Hair salon: Dolls could get their hair styled, similar to salons in American Girl Place.
Mini-Store: Doll and child sized items were available for sale, including Fashion Show exclusives.
Raffle/Door Prizes: A raffle for various prizes, including an American Girl, were offered.
Themes include Historical Character clothing, current modern outfits, the current Girl of the Year, and outfits for Bitty Baby and Bitty Twins--including sleepwear. Archived Historical characters and Girls of the Year were not included.
Models (who had to fit in clothing size 6X to 10) were accompanied by a provided doll in the matching outfit and thus did not have to bring their own. Children sized 6X and 7 were dressed in younger apparel and modeled with a Bitty Baby or Bitty Twin doll; children sized 8-10 or larger sizes were dressed in historical or modern clothing and modeled with an 18" American Girl doll.
Shows ran for about two hours with an intermission. At the end of the fashion show, children and some adults were given goodie bags with various extras from sponsors.
Exclusive Outfits and Items
Unique outfits and accessories were available for purchase at the Fashion Shows. Sometimes they were sold in Cyber Monday sales at discounted prices. Goodie Bags were given out at the ends of shows to children.
Fashion Show T-Shirt and Cap

Fashion Show Tee and Skirt

Fashion Show Capri Outfit

Fashion Show Tote

American Girl Fashion Show Treat Seat

American Girl Fashion Show Paper Play Set Goodie Bag

American Girl Fashion Show Craft Set Goodie Bag

American Girl Fashion Show Paper Doll Fashion Fun
Trivia

The event was originally titled the "American Girls Fashion Show," as seen in the original logo.