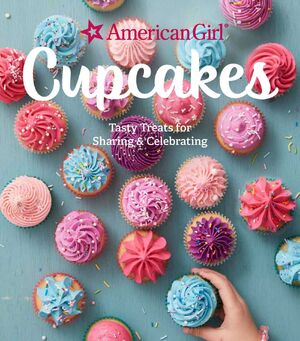 American Girl Cupcakes is an American Girl cookbook made in partnership with Williams-Sonoma and released in 2019. Retail cost is $19.99.
Sections
Favorite Cupcakes
Devil's Food Cupcakes
Toasted Coconut Cupcakes
Snow White Cupcakes
Chocolate Cupcakes
Yellow Cupcakes
Chocolate-Banana Cream Pie Cupcakes
Carrot Cake Cupcakes
Pink Velvet Cupcakes
Vanilla Cupcakes
Gingerbread Cupcakes
Fruity Cupcakes
Piña Colada Cupcakes
Triple Berry Cupcakes
Apple Crumb Cupcakes
Lemon-Blueberry Crunch Cupcakes
Orange-Vanilla Swirl Cupcakes
Banana Split Cupcakes
Mini Strawberry Cheesecake Cupcakes
Blackberry-Coconut Cupcakes
Chocolate Cupcakes
Cookies 'n' Cream Cupcakes
Mini Chocolate-Mint Cupcakes
Chocolate-Peanut Butter Cupcakes
Triple Chocolate Cupcakes
Hot Chocolate Cupcakes
White Chocolate-Raspberry Cupcakes
Rocky Road Cupcakes
Molten Chocolate Cupcakes
Specialty Cupcakes
Piñata Cupcakes
Watermelon Cupcakes
Birthday Cake Cupcakes
Salted Caramel Cupcakes
Mini Cookie Dough Cupcakes
Sundae Cupcakes
Cupcake Cones
Sprinkle Cupcakes
Brown Butter and Honey Cupcakes
Pumpkin-Chocolate Chip Cupcakes
Cinnamon Roll Cupcakes
Peppermint Bark Cupcakes
Frostings, Glazes and Mores
Fluffy Vanilla Frosting
Sweetened Whipped Cream
Cream Cheese Frosting
Marshmallow Frosting
Peanut Butter Frosting
Chocolate Frosting
Rich Vanilla Glaze
Vanilla Custard
Caramel Drizzle
Crumb Topping
Sugared Flowers
See Also
Community content is available under
CC-BY-SA
unless otherwise noted.