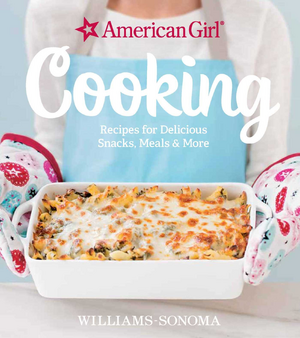 American Girl Cooking is an American Girl cookbook made in partnership with Williams-Sonoma and released in 2016. Retail cost is $19.95.
Sections
Snacks
Sweet-n-Salty Popcorn
Caprese Kabobs
Deviled Eggs
Guacamole and Star Chips
Grilled Corn Fritters with Lime
Lemony Hummus
Hot Cheese Dip
Fruit and Granola Bars
Soups and Salads
Taco Salad
Greek Salad Pitas
BLT Salad with Avocado
Chinese Chicken Salad
Chopped Green Salad
Chicken Noodle Soup
Corn and Potato Chowder
Turkey Chili
Creamy Tomato Soup with Cheese Toasts
Main Dishes
Turkey Slices with Aioli
Fish Sticks and Homemade Tartar Sauce
Turkey Club Sandwiches
Spice Beef Tacos
Homemade Pizza
Rosemary Roast Chicken
Fish Tacos with Slaw
Baked Chicken Parmesan
Spaghetti and Meatballs
Teriyaki Chicken and Veggies
Hawaiian Chicken Kabobs
Ham, Cheese and Roasted Red Pepper Panini
Sesame Noodles with Peanut Sauce
Baked Penne with Spinach and Cheese
Side Dishes
Sweet Potato Chips
Cheesy Garlic Bread
Sautéed Green Beans with Almonds
Creamed Mashed Potatoes
Refried Black Beans
Stuffed Baked Potatoes
Buttery Peas with Mint
Roasted Carrots
Roasted Cauliflower
Trivia
See Also
Community content is available under
CC-BY-SA
unless otherwise noted.