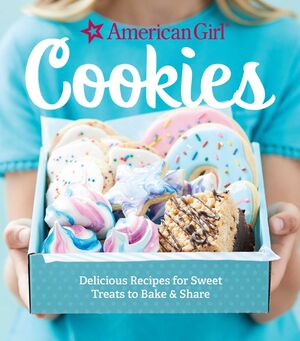 American Girl Cookies is an American Girl cookbook made in partnership with Williams-Sonoma and released in 2018. Retail cost is $19.99.
Sections
Classic Cookie Galore
Mini Chewy Chocolate Chip Cookies
Triple-Chocolate-Chip Cookies
Classic Peanut Butter Cookies
Ultimate Chocolate Chunk Cookies
Chewy White Chocolate Coconut Cookies
Oatmeal-Chocolate Chip Cookies
Buttery Vanilla Shortbread Cookies
Chocolate-Dipped Butter Cookie Triangles
Snickerdoodles
Chocolate Brownie Cookies
Sugar Cookie-Tastic
Sugar Cookie Cutouts
Royal Icing
Donut Cookies
Chocolate Sugar Cookies
Jam Swirls
Rainbow Cookies
Love Heart Cookies
Confetti Cookies
Stained Glass Cookies
Three-Tiered "Cake" Cookies
Galaxy Cookies
Flower Cookies
Marbled Sugar Cookies
Special and Seasonal Cookies
Swirly Meringues
Chocolate-Covered Mint Wafers
Homemade Oreos
Sugar-and-Spice Star Sandwich Cookies
Chocolate Sweetheart Sandwich Cookies
Chocolate-Filled Vanilla Sandwich Cookies
Cinnamon-Sugar Roll-Ups
Fortune Cookies
Chocolate-Covered Peanut Butter Squares
Gingersnap Snowflakes
Milk-and-Cookie Cups
Lemon-Lime Thumbprint Cookies
Glazed Lemon-Buttermilk Icebox Cookies
Brownies and Bars
Ooey-Gooey Layer Bars
Sugar Cookie Bars
Chocolate Chip Blondies
Mint Coconut-Lemon Squares
Crispy Rice and Chocolate Layer Brownies
Mini Cheesecake Bars
Frosted Chocolate Brownies
S'mores Bars
Raspberry-Oat Streusel Bars
Cream Cheese Swirl Brownies
Millionaire's Shortbread
See Also
Community content is available under
CC-BY-SA
unless otherwise noted.