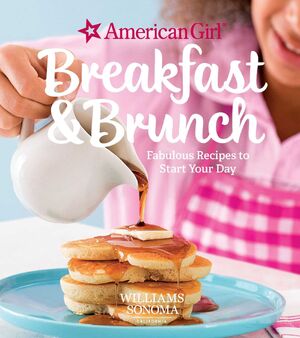 American Girl Breakfast and Brunch is an American Girl cookbook made in partnership with Williams-Sonoma and released in 2017. Retail cost is $19.95.
Sections
Breakfast Basics
Cinnamon Toast Cereal
Ricotta Pancakes with Spiced Bananas
Buttermilk Pancakes
Perfect Scrambled Eggs
Easy Fry Eggs
Coffee Cake Muffins
Pumpkin Spice Muffins
Basic Waffles
Whole Wheat Blueberry Waffles
Strawberry Jam Muffins
Mini Blueberry Oat Muffins
Sweet Treats
Cinnamon Rolls with Cream Cheese Icing
Lemon Quick Bread
Bite-Sized Berry Scones
French Toasty Roll-Ups
Cinnamon Sugar Donut Holes
Vanilla Glazed "Toaster" Pastries
French Crepes with Jam
Banana Filled Crepes with Chocolate Sauce
Good for You
Acai Bowls
Chia Seed Pudding Jars with Fresh Fruit
Quinoa and Berry Breakfast Bowls
Power Packed Fig Bars
All-Star Granola
Cinnamon Spice Oatmeal with Fruit and Nuts
Fruit Smoothies
Fantastic Fruit Salad
Egg-cellent Eats
Scrambled Egg Chilaquiles
Breakfast Pizzas
Breakfast Burritos
Classic Omelet
Mini Frittatas with Spinach, Bacon and Cheese
Cheesy Egg and Sausage Sandwiches
Egg and Cheese Breakfast Tacos
Toad in a Hole
Crowd Pleasers
Breakfast Quesadillas
Breakfast Biscuit Sandwiches
PJ and J Panini
Bread and Butter Pudding with Pears
Croque Monsieur
Peach Blackberry Crisp with Yogurt
Tomato and Mozzarella Strata
Individual Baked Eggs with Spinach and Ham
Tasty Extras
Flavored Cream Cheese Six Ways
Strawberry Refrigerator Jam
Honeyed Whole Wheat Bread
Maple Glazed Bacon
Hash Browns
Fresh Mint Tisane
Whipped Hot Chocolate
Chai
Coffee-Free Latte
See Also
Community content is available under
CC-BY-SA
unless otherwise noted.