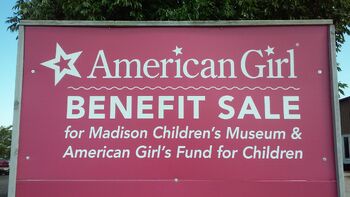 The American Girl Benefit Sale (abbreviated AGBS, colloquially known as the Madison Children's Museum Sale, and abbreviated thus as MCM Sale) is an annual sale held for the benefit of the Madison Children's Museum and American Girl's Fund for Children that sells overstock and returned American Girl items at a discount. The sale is generally held over a two-day weekend in July.
All items are donated from American Girl and sale proceeds are divided between Madison Children's Museum and American Girl's Fund for Children (which makes substantial grants to about two dozen local and regional organizations working on behalf of children in the area). The sale is the museum's largest annual fundraiser at nearly $1 million each year. The sale began in 1987 and is fully staffed by volunteers.
AGBS expressly states not to contact American Girl regarding any information about the sale or items purchased at the sale, as the sale is not conducted by the company.
Attendance
The sale was initially held in Middleton, WI (a suburb of Madison); starting in 2022, it will be held in the Alliant Energy Center in Madison, Wisconsin. Items are only sold on-site and cannot be purchased over the phone, online, or through mail order whatsoever in standard years. Frequently, collectors will offer to purchase items at the sale for members who live far away and cannot make it there. Most of the time this cost is no more than the cost paid for items plus convenience and shipping fees.
Ticketing and Entry
Before 2018, tickets for Saturday and early Sunday entrance times were made available for order at the start of May, with downloadable or online forms. Saturday Tickets range in time from 7 am until 2:45 pm. at fifteen minute intervals for a modest price of $8 and a limit of six tickets total per person/household. Sunday morning early-entry tickets for 7 am were sold for a higher price, generally $20-24.
Originally, ticket times were assigned by postmark and not arrival at the office; this meant a person who sent in forms by May 3rd but lived further away was more likely to get an earlier time than someone who sends a later postmarked time but lived closer. Starting in 2017, Saturday tickets became available for purchase online as well and could be picked up on site at will-call or mailed. Physical tickets are mailed out prior to the sale. AGBS expressly forbids re-selling tickets for more than face value.
Starting in 2018, tickets could only be ordered online, with all orders on a set day randomly chosen for various entry times; the earlier the purchase, the likelier chance there was for earlier times. Later, the option was offered to allow a second entry into the warehouse in Saturday afternoon hours.
Starting in 2020, due to venue change, the prices of tickets rose to $10 for all Saturday tickets and $5 for all Sunday markdown sale tickets, eliminating free Sunday tickets. Sunday tickets were also sold simultaneously in the pre-sale lottery.[1]
AGBS asks that no one arrive on the grounds before 6 a.m.; early line up is discouraged. Ticketing helps to regulate the flow of people into the warehouse and enforce safety and capacity limits. Times can be delayed depending on the amount of people inside; until enough people have exited, no more can enter. Groups are approximately 100 people per 15-minute interval starting at 7 a.m. and until 2:45 p.m.; at 3 pm on Saturday all purchasers must exit with their purchases and leave the grounds.
Groups were lined up under a large central tent in three groups, with clipboards showing ticket times. Ticket holders may not enter under the line up tent until their time is available, though they may step out of line if necessary. A person does not have to line up to gain entry unless they wish to have immediate entry; if ticket holders arrive after a timed entry has entered, they may enter the warehouse as soon as it is permissible.
Sunday Free Entries (pre-2020)
On Sunday, non-purchased free entry tickets are made available at 8 am and given out, one per attendant; these tickets do not have times and groups are lined up by ticket number from 0-799 and then unnumbered. People are not allowed to line up to get these tickets before 7 am.
Entry is closed after 11:45 a.m. on Sunday; the sale is closed at noon and all purchasers must exit with their purchases.
Starting in 2020, Sunday tickets were no longer free and were sold for $5.
Auctions
On Saturday, silent auctions are held for rarer items, including retired items donated by volunteers. There are also Buy It Now sales for items and retired or older dolls. Auction bids are taken by writing on silent auction sheets, with set price increments. End times are staggered.
Raffle
On Saturday, raffles tickets are sold for $1 or a string for a cheaper overall amount. Raffle prizes are donated both by volunteers and American Girl and may include yet-to-be-released products, older collections, and/or early entry times to the sale.
Names and contact information must be written on each ticket. A person does not need to be present to win.
Vendors and Other Booths
Outside the warehouse are personal vendors. Most sell doll accessories, items, and clothes, though anyone can purchase vendor space; some spaces are set up for food purchases or children's activities.
Staring in 2017, UPS set up stations on-site to ship items back immediately.
Starting in 2017, a "doll daycare" was set up to prevent previously purchased dolls of any kind into the warehouse; dolls must be checked in before entry. Use of the doll daycare is at personal risk.
Parking
Parking is not allowed in the lots of warehouses and businesses nearby. Overnight parking or camping is not allowed. If weather does not permit use of the large parking field (such as from mud/rain), it will be closed. Limited disability parking is available with a valid, currently active parking permit, but may not overflow the lot.
Shuttle buses run from aligned hotels and a nearby ice arena parking lot to the warehouse. This does not run on Sunday. There is also street parking, but this is variant to what is available.
Merchandise Availability and Purchase
Over the course of the year, volunteers repair, sort, and clean items at a different location. Items with major flaws or missing components are sent briefly to American Girl for repairs before being sent back for sale.
Stock at the sale was originally and primarily comprised of returned stock and factory seconds (items with minor flaws in construction), allowing any possibility of items to be found and purchased, ranging from recently retired items to older, harder to find items. Since American Girl had a somewhat liberal return policy allowing items to be returned to them at any time until 2018, people can and often do return older items to the company, so nearly any item returned used to be sent to the sale instead of resold to customers.
In August 2008, President George W. Bush imposed the world's strictest lead ban in products for children 12 or younger by signing the Consumer Product Safety Improvement Act. As a result, AGBS staff and volunteers were then not allowed to repair or refurbish several older items, and older items were not often sold. This law later relaxed and older items were allowed to be available again. Still, simply due to age and availability, most items found at the sale are recent overstock or returns from American Girl's warehouse. Older retired items that are donated are often placed in a silent auction; some are set aside for a raffle.
When a Girl of the Year is retired without selling out, generally any remaining stock of items is sent to the sale instead of sold after December 31st.[2] Items released since the start of the year will not be available until the next sale (e.g. in 2016 Lea's Collection was not available at the sale, but was starting in 2017).
Items are grouped according to type with an internal map given out in line. Major Groupings consist of:
Occasionally, other Mattel brands and products such as Corolle or Monster High are available.
Saturday prices are approximately 30% off retail costs. Sunday prices are approximately 50%. Occasionally free items are given to purchasers on exit. Items are not held on-site for anyone and will be restocked, and merchandise is not staggered or held back; when an item is out of stock, it is not restocked later. (Generally, information is presented stating which Historical Characters, BeForever, and/or Girls of the Year are out of stock at entry.) All items are seconds and/or returns by nature and are sold as-is; no refunds or exchanges are allowed.
Payment is with credit (Visa, MasterCard, Discover, and American Express) or cash on site; one set of tables are for totaling and the other for payment. Checks of any kind are not accepted. Wisconsin State Sales Tax is charged. Purchasers are encouraged to round up to the nearest dollar on the final amount for donations.
Sale Regulations
Limits are placed on every item available to prevent purchasing too much by one person; these are per person (the person paying), not per ticket, and the sale reserves the right to deny purchases. Limits are mostly placed on dolls, with the tightest being on Historicals which is often a limit of one per ticket purchase; the most liberal limits are modern (Truly Me) dolls which can be as high from 8-10 each per ticket, though there have been high limits for other dolls when there are high amounts.
Bags are not given out for free; large bags may be purchased on site for $5 each or a person may bring their own personal bags. No wheeled transportation or shopping baskets are allowed such as wagons, wheeled shopping carts, or baskets; all items must be carried by the person(s) inside. People with disabilities are permitted to bring in or come in with their necessary mobility equipment.
There is no time limit on shopping but a person cannot return after leaving and entry was initially only once a day; starting in 2018 afternoon walk up tickets were allowed, though are not guaranteed.
Children under three are not allowed inside the warehouse. All entrants must have their own ticket, including children.
American Girl is not responsible for the condition of the merchandise or the management of the sale; therefore, contacting them regarding items is not advisable. American Girl will not repair, exchange, or replace items purchased from the sale that come with flaws, with the notable exception of silver eye.
Policies state that items are not to be resold; this rule is broken often by purchasers since many items show up on eBay for secondhand purchase.
Marks on Merchandise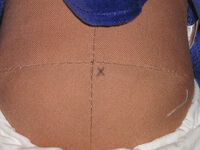 Dolls and furniture are marked with black Xes or dots in a non-obtrusive area to indicate they were purchased at the sale. Cloth-bodied dolls are marked on the bottom near the seams; Welliewishers are marked at the center back of the molded panties; furniture is marked underneath. Clothing and boxes are slashed through the UPC barcode, and some tags may be slashed or blackened. This is to prevent returns to the store or through American Girl.
2020: AGBS Online
Due to the 2020 Covid-19 pandemic, the Benefit Sale was pivoted to be held online. The following changes were made to accommodate the inability to hold an in-person sale:
Ticket sales were limited to the lottery pre-sale from March 18-23. While AGBS had hoped to sell General Sale tickets after shifting to online, inventory of the stock of available product led to the decision to sell no further tickets beyond initial sales, rather than have a poor experience or high competition for limited tickets.
Dates of purchase were moved from the original dates of July 11-12th to July 25-26th to give time to facilitate the online system.
All shoppers were required to have a ticket to shop online. Tickets were tied to e-mail addresses and required log-in by e-mail address with password. In order to allow others to use tickets, transfers of tickets was allowed (e.g. a person who bought four tickets for themselves, a child, and two friends they planned to meet with could opt to keep two tickets, then transfer the other two to the friends via e-mail address). The limited window for ticket holders to transfer their tickets to another person was from June 26 through July 7. All ticketholders had to activate accounts in order to shop and were encouraged to put in shipping addresses beforehand.
Due to the sale being online, all purchases were required to be paid for with credit or debit card.
Access to shopping online was on the same weekend day and time as ticketed entry times (according to Central Daylight Time/CDT). Quantity limits remained the same as the physical sale, limited by ticket. A single ticket allowed one online purchase of a shopping cart of goods, honoring all quantity limits. If a product had sold out by checkout, it was removed from the cart during check out; if a person had more goods than were permitted, the checkout would not complete until items were removed to honor limits. Each additional ticket allowed another online purchase with refreshed quantity limits, and so on.
Create Your Own dolls were listed in a category to themselves, shown from the front in full box. Due to the nature of the product, as each doll was sold it was removed from view and purchase.
As with previous sales, on Sunday there were additional markdowns and limit changes. However, these markdowns could not be specified on Saturday via blog as before; they were shortly specified on the active website ahead of time.
Dolls and Friends Pajama Party kits--in lieu of the sleepover that would have be held Friday night--were available in limited quantities. Each kit included a Bitty Baby doll, special craft project supplies, and an invitation to participate in an exclusive online video party in the fall with exact dates listed in purchase.
Grab bags were offered in limited quantities with a mix of items. $50 Grab Bags included an 18" Truly Me doll (the majority of which were #47), while $20 bags did not; items included doll clothing, books, accessories, and mini dolls. It is unknown if this will carry through to future sales.
No auctions or raffles were held.
Purchasers could choose to donate a doll--either Melody or Tenney dolls--through purchase, with dolls purchased being given to children in need. It is unknown if this will carry through to future sales.
All orders outside of donations are to be shipped to the purchaser; curbside pickup options were not made available. Shipping costs were calculated during checkout and included in the purchase total at the time of checkout, according to weight, shape of box and distance from Madison to the destination. No shipping could be made outside of the United States or to APO/PO Boxes, as shipping was made through UPS Ground. Due to the logistics of sorting and packing plus time to ship, most orders could not arrive until August at the earliest, and separate tickets/carts shipped separately.
Due to the multiple logistic changes, AGBS temporarily changed the longstanding refund policy and offered refunds to current ticket holders. Ticket holders could also opt to donate unused or unwanted tickets. Requests for refunds or ticket donation to the museum were processed from June 8 through June 15.
The benefit sale opened daily at 7 a.m. CST and closed at 3 p.m. CST; the last ticket entry was 2 p.m. and all purchases had to be fully completed by closing.
Since the vendors could not be present, the sale linked to a "virtual vendors market" on Facebook, listing various vendors and how to contact for sales.
2021: AGBS Online/Pickup
The 2021 sale again was modified for extenuating circumstances regarding public health concerns relating to the Covid-19 pandemic.
The sale was delayed with initial news being released in April stating the sale would, if held, be delayed to September. While public health in the United States continued to improve over the months, it did not reach levels for a safe in-person sale (especially due to spread of the highly-contagious Delta variant). Furthermore, 2020 resulted in complete sell-outs of doll inventory with inventory projected to be lower than in previous years, so ticket sales were lowered and more restrictions on purchase limits were placed. Finally, there is to be no shipping; the sale will be requiring item pick-up only in Middleton. Because of the significant limits on purchase and lack of ticket purchase guarantee, AGBS advised against planning a trip to the sale that involves traveling a long distance.
In a first, purchase limits were announced before ticket sales were made available so as to offer people full information before purchasing; furthermore, a double lottery was used to offer everyone a fair chance at the limited number of tickets. Information is as follows:
Ticket Sales Lottery and Purchase: Aug 25–26 was the ticket purchase lottery sign-up; forms were sent out and available on the website and Facebook page for entering the pool for the chance to buy one ticket per person. Only one entry per person was accepted. From the pool of applicants, people were informed if they were selected to buy tickets or not by August 27. From August 27th-30th, those who were selected to purchase tickets were given the link to allow them to purchase their ticket. Tickets cost $12, all sales final, and limits were one ticket per e-mail/household. Ineligible ticket purchases were refunded minus a $4-per-ticket fee; purchase violators may be denied future ticket sales. Shopping times will be randomly assigned to all purchased tickets, with results sent by email to all ticket holders.
Ticket Transfers and Purchase Verification:: If a purchaser could not, for whatever reason, use their ticket--or purchased a ticket on behalf of another--from Sept 1-8th, the ticket could be reassigned using the website, similar to transfers in 2020. Every email address associated with a ticket had their online account automatically verified with the Shopify website before the benefit sale.
Shopping: Shopping was only open on Sept 25th. Shopping started no earlier than 9 a.m. PDT with the last time at 2:45 p.m.; all purchases had to be completed by 3:30 p.m. The Bonus Buy reopened at 5 p.m., allowing shopping until 6 p.m. Afterwards, shoppers could select times for pickup.
Purchase Limits: The purchase limits were a sum total of four dolls and four accessories per ticket holder, for a total of eight items. This was for all dolls in a collective pool--all 18" dolls (Historical, CYO, Modern, and GotY), Bitty Baby, and Bitty Baby gift boxes; there were no statements on WellieWishers doll availability. Accessories such as furniture, pets, clothing, etc., were individually priced. Items were not reserved until checkout and could sell out while shopping.
Bonus Buy: As shopping was tricky and it was suggested that purchasers not dally in order to secure a purchase, this did not leave much chance to browse through any books. A special Bonus Book Buy was available after the main sale concluded, where all ticket holders were able to log back in again and shop for an unlimited amount of books and any remaining dolls and accessories (with regular purchase limits, but unlimited carts).
Post Sale Pick Up: From October 9-24--weekends only--orders were available for in-person pickup at the warehouse in Middleton. Shoppers had the opportunity to select from available pickup times--either 8–11 a.m. or 12–4 p.m--as well as designate a proxy to pick up orders.
2022: AGBS Online
The 2022 sale, for the third year, is to be modified for extenuating circumstances regarding public health in the US regarding the ongoing Covid-19 pandemic. The sale will happen starting July 14th and continue through July 16th or until all items are sold.
All purchasers must register to participate. Registration is free through a Google form, initially posted on their official Facebook page.
Tickets will not be time staggered. All registered shoppers will be able to shop as soon as the sale begins.
Per-cart limits will be set for items and categories of items. All purchasers may, after purchasing, return and shop again to refresh the limits. Multiple orders will be combined before shipping or pickup.
Purchasers may choose to either pick up items or have them shipped.
In-person pickup will be in Middleton, Wisconsin, July 30-31 and August 6-7.
Shipping will be offered through a third-party shipping partner who will determine shipping costs, contact purchasers for payment, and then ship items.
Links
References
↑

General Ticket Sales were planned, but could not be sold due to the limitations on the sale caused by the covid-19 pandemic.

↑ Ever since Chrissa's retirement, however, some items in the collection are rereleased under generic names as part of the Just Like You collection or sold online after retirement.
↑

The dolls tend to be available at a higher cost than most other items.