"Pleasant Company" redirects here.
American Girl, LLC is the current, official name of American Girl.
Pleasant Company was the original name of the company producing and distributing American Girl products. The company was started in 1986 by Pleasant Rowland and she retained ownership until she sold the line to Mattel in 1998. The company fully transitioned to Mattel ownership and the name American Girl in 2000, and the brand has been owned by Mattel ever since.
History of American Girl
Current Product Lines
American Girl currently produces six active lines of dolls:
They also run the official American Girl Hospital and are associated with the American Girl Outlet Store.
Retired Product Lines
The following lines, services, and/or products from American Girl have been discontinued:
Stores
American Girl has several physical stores, referred to initially as American Girl Place. These are the only locations where items can be purchased new from the company without ordering from the website or catalog.
Logos and Symbols
The American Girl Logo are symbols found on clothing, packaging, paperwork, books, the website, and other accessories. It was redone when Mattel purchased American Girl from Pleasant Rowland and renamed the brand.
Full American Girl Logo
The full American Girl logo has the words "American Girl" with the star in between or in front of the words. The Is are dotted with stars. This logo may be seen on a red background with white text, or on a white background with pink text. It is currently used on all packaging and websites, and several articles of clothing, and so is the most prolific logo of the company.
Abbreviated American Girl Logo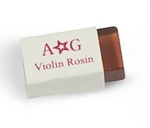 The abbreviated logo is the letters AG with a star in between or in front of the letters. It is normally seen only on clothing and accessories in small areas where a full logo would be too small, but has started to be phased out.
American Girl Star
The American Girl Star is a five pointed star with a thick outline, displayed with the top point leaning to the left at a slight angle. In places where a full logo does not fit, this logo is dominantly used; it is also used in patterns and on large logos.
American Girl Plastic Tag
American Girl doll clothing has, since about 2014, had places patches or attachments showing the full logo on at least one componet, generally near a lower hem. This was initially done on Girls of the Year and included the character name.
On clothing, the logo was initially a sewn on patch that matched in color. In 2015, this was made into a metal oval with the imprinted full logo. Starting in 2017, the patch was replaced with a clear plastic oval with black text.
Older Logos
Pleasant Company Logo
The Pleasant Company Logo depicted a silhouetted young girl laying on her stomach and reading, with a doll seated by her side. The girl is always darker than the doll silhouette. Often the text Pleasant Company was below in a box outline.
It could be found on the backs of the Historical Central Series that were released by Pleasant Company, packaging on items, and some clothing. The logo was phased out when the company was renamed after purchase.
American Girl (of) Today Logo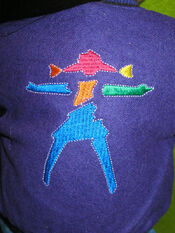 The American Girl (of) Today logo consisted of a stylized, often multicolored pigtailed girl often with American Girl Today superimposed over the figure. (The Is are dotted with stars.)
This logo (and the stylized girl logo without text) was used on multiple American Girl (of) Today outfits, accessories, packages, plastic hangers and other items, including items such as Grin Pins and Miss AG Bear. The logo was phased out when the line name was changed.
Charitable Affiliations
American Girl has, outside of Girl of the Year alliances, aligned with and donated to several charitable and non-profit organizations both directly and through the parent company of Mattel.
Former Affiliations
Links
United States and Canada
Middle East and North Africa (MENA)
Starting in 2017, American Girl launched a website dedicated to the Middle East and North Africa region (MENA). Majid Al Futtaim Leisure and Entertainment operated the MENA website, trading under American Girl. As of 2020 the website has been taken down and is no longer accessible, and both stores closed in early 2020. The listed social media accounts have not shown updates since 2019 and/or have been archived.
References
Community content is available under
CC-BY-SA
unless otherwise noted.