Aloha, Kanani is the first book about Kanani Akina. It was included with the doll when she was available to be purchased; it is now available separately.
Characters
See Also: Minor Characters in Kanani's Stories
Chapter By Chapter Summary
Chapter One: Akina's Shave Ice and Sweet Treats
Kanani looks at the calendar hanging beside the cash register; thinking that it has taken forever for summer to arrive, but now that it is finally here she can help out at her parents's Shave Ice and Sweet Treats store every morning. She especially enjoys greeting customers. Kanani's great-grandfather built the store by hand and it was one of the first building in Waipuna. Even though the store is somewhat shabby, new customers usually look around the store and marvel at the decoations and treats. Akina's Shave Ice and Sweet Treats also withstood several hurricanes.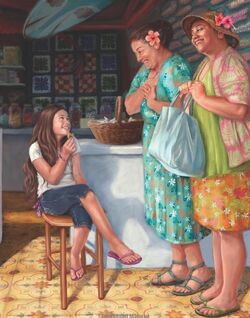 Kanani's aunts arrive at the store with large bags and one of them, her Aunty Lea asks Kanani to try the candied pineapple rings she made. When Kanani does and then nods at her, Lea triumphantly tells Kanani's other aunt, Aimee that Kanani likes her treat better. Aimee argues that Kanani hasn't even tried her treat yet, offering her niece some Mango Mochi. Kanani takes a bite and smiles, which causes Aunty Aimee to insist that Kanani prefers her treat. Lea disagrees. Before they can continue arguing, Kanani steps in between them, calmly telling them that both treats are good and will sell well.
Kanani's mother comments on Kanani being "quite a diploma" before pointing out that tomorrow will be the "big day" and asking if Kanani remembers her cousin, Rachel. Rachel, who lives in New York City would spend a month with the Akinas. When Kanani asks when her and Rachel last saw each other her mother tells her that it had been four years. Kanani was six years old then and Rachel was almost eight. Kanani says that she remembers them having a lot of fun together, but she wonders if Rachel changed. Mrs. Akina says that they both changed since a lot can happen in four years. Kanani solemnly points out that Rachel's parents are getting a divorce.
Chapter Two: Cousins
Chapter Three: Poi
Chapter Four: Complete Opposites
Chapter Five: Call for Help
Chapter Six: Ocean Breeze
Chapter Seven: A Magical Place
Chapter Eight: Dear Diary
Chapter Nine: 'Ohana
Chapter Ten: Summer Wishes
Glossary of Hawaiian Words
Real Girls Who Help Animals
Trivia
Aloha, Kanani was the first Girl of the Year meet book to not simply be the character's name.
See Also