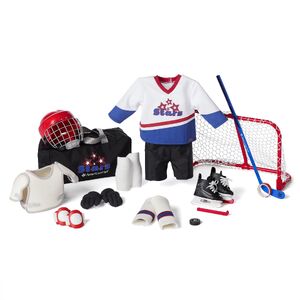 The All Star Hockey Set is a Truly Me item released in 2019. Retail cost is $75.
Helmet
Red helmet with face mask and chin strap.
Jersey
White and blue jersey with red accents. Stars across the front. Fits on doll over gear.
Breezers
Black hockey shorts with padding on the sides.
Shin Guards
Two white plastic shin guards that snap onto doll's lower legs.
Socks
Two white socks with red and blue stripes. Fit over shin guards.
Elbow Pads
Two red elbow pads that attach with Velcro straps.
Shoulder Pads
White shoulder pad that attach with Velcro on the arms and across the torso.
Skates
Two black skates that lace up. First American Girl offering with hockey-style blade.
Skate Guards
Two red rubber skate guards that snap on to each skate.
Hockey Stick
Blue plastic stick with black accents. American Girl name along the shaft and the star logo on the toe.
Tape
Red tape roll for wrapping the stick's handle and blade.
Gloves
Two black hockey gloves with white palms and loops on each palm so the doll can hold the stick.
Net
Red net with white netting.
Puck
Plastic puck with star logo.
Bag
Black hockey bag. Has the same Stars logo as on the jersey. All gear fits inside, except the stick.
See Also