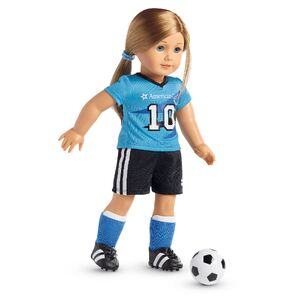 The All-Star Soccer Outfit was a Truly Me outfit released in 2017 and retired in 2019. Retail cost was $34.
Jersey
Light blue soccer jersey with black fabric around collar. Printed graphic on front with American Girl logo, the number 10 in white and black, and dark blue and black stripes. Velcro in back.
Shorts
Black soccer shorts with two white stripes on each side. Image of soccer ball printed on left leg of shorts.
Shin Guards
White plastic shin guards with AG star logos on them.
Socks
Dark blue knit socks.
Shoes
Black soccer cleats with two white stripes on each side. Shoes slip on and have black elastic on the front.
Hair Elastics
Two blue doll-sized hair elastics.
Soccer Ball
Hard plastic white and black soccer ball.
See Also