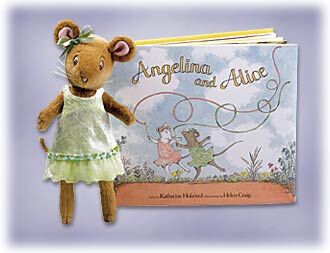 The Alice Doll and Book Set was an Angelina Ballerina item released in 2001 and retired in 2004. Retail cost was $27.95.
Alice Doll
Brown plush posable Alice doll. Pink fabric inside ears. Brown, white, black, and pink embroidered eyes, nose, mouth, and paws. Three clear plastic whiskers on either side of nose. Green bow attached on right side of head. Tail has wire inside to pose it.
Dress
Light green velour sleeveless drop-waist dress with decorative trim. Trim is light blue with a pattern of light green and teal flowers with white stitching throughout.
Panties
Matching green velour panties. These have elastic around the leg holes and waist and a small hole for Alice's tail.
Book
The Angelina and Alice book.
Trivia
The book was available separately for $12.95.