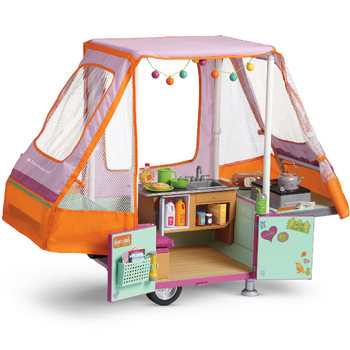 The Adventure Pop-Up Camper was a Truly Me accessory released in 2016 and retired in 2018. Retail cost was $185.
Camper
Magenta camper with blue walls and "wood" floor. Folds open from a trailer and opens in front with two doors. Left side contains a fold out bed. Middle has a bench with storage, and a kitchenette with sink, cabinet, fridge, and counter space. Slides up and down for storage. Right side has a stove with two pretend burners. Lavender and orange canopy attaches to side poles and a roof. Attaches to body of camper with velcro and back with loops and buttons. Side doors have a swirling blue floral design.
When folded, the camper has a luggage rack with white plastic poles. These all pull apart to become the support poles for the fabric of the tent. Tent fabric is orange, light purple, and dark purple. Mesh cutouts on sides. Clear plastic windows on either end of camper.
Lights
Pink, orange, turquoise and yellow ball lights on a green string. Non-functional. These can hang from the ceiling of the camper.
Stickers
Sheet with multiple stickers: camping, nature, and "license plate".
Cushion
Magenta bench cushion.
Flashlight
Plastic yellow and gray non-functional flashlight that doll can hold.
Pan
Gray plastic frying pan with orange handle.
Kettle
Gray plastic kettle with orange handle and trim on lid. Body of kettle has six orange flowers on it.
Spatula
Metal spatula with orange handle.
Plates
Two plastic plates in green and white enamelware pattern.
Cups
Two plastic mugs in green and white enamelware pattern.
Bowls
Two plastic bowls in green and white enamelware pattern.
Sporks
Two metal sporks. AG star logo inlaid at end of handle.
Bread
Loaf of bread enclosed in a bag.
Peanut Butter
Jar of peanut butter.
Jelly
Jar of purple jelly.
Granola Cereal
Cardboard box of granola.
Milk
Plastic jug of 2% milk.
Orange Juice
Plastic jug of orange juice.
Soda Can
Plastic can of Lemon-Lime Soda. Green attached straw.
Pancakes
Stack of two pancakes with a pat of butter.
Syrup
Transparent plastic bottle of pure maple syrup.
Pasta
Cardboard box of pasta noodles.
Pasta Sauce
Plastic jar of Italian style pasta sauce.
Spaghetti
Clump of spaghetti noodles, topped with meatballs.
Magazine
Miniature copy of American Girl Magazine, the August/Sept 2015 Issue.
Brochure
Miniature "Happy Camping" brochure.
See Also