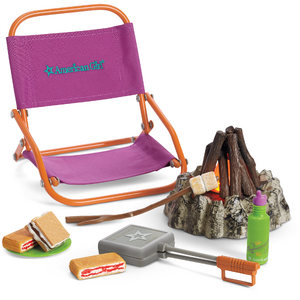 The Adventure Campfire Set is a Truly Me accessory set released in 2016 and retired in 2019. Retail cost was $28.
Camp Chair
Orange metal camp chair with purple fabric seat and back. Blue American Girl logo printed on seat back. Seat folds up.
Fire Pit
Plastic stone fire pit with orange fire. There are two buttons on the side which are the same color as the stone. Press one button to start flickering lights. The second button will alternate between crackling wood sounds and cricket and owl sounds.
Pie Iron
Plastic pie iron with handle. Iron is silver plastic with AG star on the outside. Silver metal handle with brown handle on the end for dolls to hold iron.
Pie
Two halves of a plastic pie that can fit inside pie iron. Brown crust on the outside with white and red filling.
Stick
Brown plastic stick with two faux roasted marshmallows on the end. Dolls can hold stick.
S'more
Plastic s'more with graham crackers, marshmallow, and chocolate.
Plate
Green plastic plate with white speckles on it. This is identical to the plate with the Adventure Pop-Up Camper.
Sport Bottle
Green plastic bottle with purple cap. Purple swirl design on side with yellow flowers and white American Girl logo.
See Also