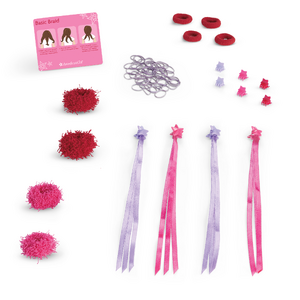 The Adorable Souvenir Accents is a Truly Me accessory released in 2016 and retired in 2018. Retail cost is $10.
Hairbands
Eight hairbands. Four are small red hairbands. Four are a larger scrunchie style; of those, two are pink and two are red.
Hair Elastics
Fifty purple hair elastics.
Star Clips
Six small butterfly-style hair clips. Two are light purple, two are pink, and two are red. Clips have a star molded on top.
Ribbon Clips
Four star-shaped clips with three ribbons hanging from them. Two are light purple and two are pink.
Tip Sheet
Pink tip sheet with directions for a braid hairstyle.