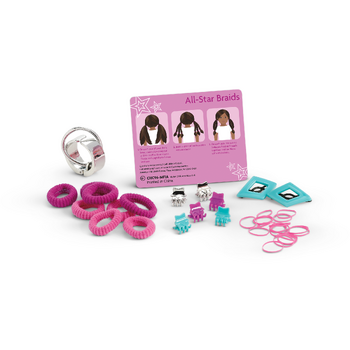 The Adorable Everyday Accents is a Truly Me accessory released in 2016 and retired in 2018. Retail cost is $12.
Ponytail Clip
Silver ponytail clip.
Hair Elastics
Fifty pink hair elastics.
Star Clips
Six butterfly clip style hair clips. Two are silver, two are purple, and two are blue. Each has a molded star design on the ends.
Hairbands
Eight hairbands. Four are purple and four are pink.
Barrettes
Two diamond-shaped blue barrettes.
Tip Sheet
Pink tip sheet with directions for making "all-star" braids.
Pouch
Clear plastic pouch.