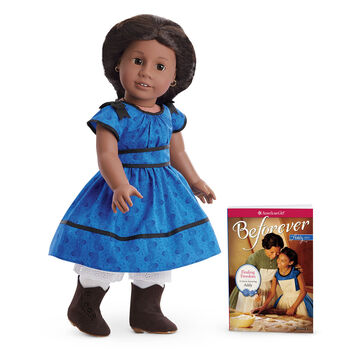 The Addy Walker doll was released in Fall 1993 and updated in Fall 2014 with BeForever. A Special Edition version was released for the 35th anniversary in 2021.
Her hair (Classic) was originally styled in a single tucked up braid. The Beforever Style comes in two braids crossed over and tucked up.
Initially released with straight brows, the BeForever update gave her feathered ones.
Other: Addy has permanent gold loop earrings in each ear.
Meet Outfit
Classic Edition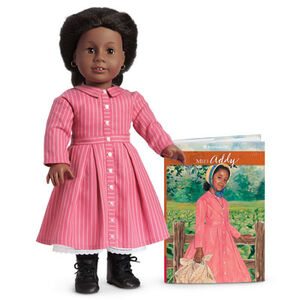 Addy's First Edition Meet Outfit was significant to the stories because it is the first clothing she received after escaping enslavement to freedom. It is a gift from Miss Caroline and was a sample of the clothing style of the day for young girls.
After the launch of BeForever, the set was sold (minus hair accessories) as Addy's Classic Outfit for $36.
Dress
Double pink (or cinnamon pink) day dress. Fabric has fine white wavy lines and dots in vertical "stripes". Dropped shoulders. Straight sleeves. Rounded collar. Translucent white buttons down the front of the dress. Skirt hem comes to about mid-calf, the length appropriate for a girl of about eight to ten years of age during her time period. Velcros up the back and around the wrists.
Stockings
Black knit stockings that reach to the knees. Elastic tops.
Boots
Black lace-up boots with black grommets and a cap-toe style. Black shoe laces. Stiff black soles.
The first production wave of Addy dolls came with boots without grommets. Dolls sold after the first wave came with grommets on their boots; this was later changed around 2006 to lighter tan soles and the grommets were replaced with embroidered eyelets.
Drawers
White cotton "drawers" trimmed with lace; elastic waistband in the back.
Hair Ribbon
A 1/4" wide navy blue satin hair ribbon.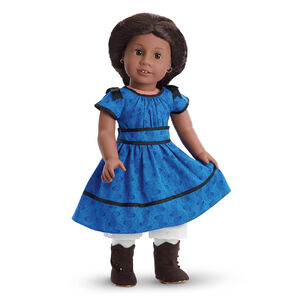 The BeForever Outfit for Addy was available alone for $36. It was released in 2014 and retired as a separately available purchase in 2018. It remains significant to the stories as the first clothing Addy receives from Miss Caroline after escaping enslavement to freedom.
Dress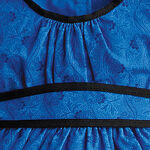 Deep blue short bell-sleeved calico style dress. Abstract print of flowers, leaves, and vines in darker blues and white dots. Boat neck collar, slightly gathered. Slight dropped shoulders. Wide black grosgrain bows with V-cut ends attached to shoulder seams. Attached waistband is loose over waist seam and attached at side seams. Black grosgrain thin ribbon trim on boatneck collar, sleeve hems, around waistband, and skirt. Velcros up the back.
Pantalettes
White knee-length pantalettes. Flower eyelet lace with scalloped edges at bottom hem. Elastic waistband.
Stockings
White knee stockings.
Boots
Black canvas button-side style boots. Curved upper edge and separate toe seam. Four black non-functional buttons on curved outer side. Brown soles with moderate heel. White inner lining. Velcro up the back.
Hair Ribbons
Two blue hair ribbons. These are not included in the outfit when it is sold alone.
Meet Accessories
First Edition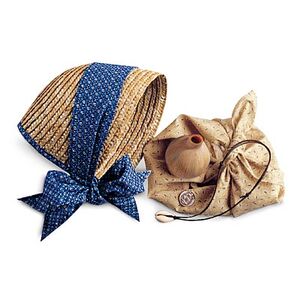 Straw Bonnet
Straw hat with a blue calico print ribbon. The ribbon is sewn around the bottom edge as trim and the tying ribbon is tacked near the front. The right ribbon is shorter than the left as the ribbon is to be tied on the right side of her face.
Kerchief
Addy's "purse", a large square beige printed kerchief that is knotted up to hold Addy's things.
Gourd
Water gourd. In the 1990s, the water gourd was made of an actual gourd and came with a cork stopper; after a crop failure, it was changed to plastic and no longer has a cork stopper.
Half-Dime
A replica of a Seated Liberty half dime; in the stories it is given to Addy by Uncle Solomon before she and Ruth escape.
Cowrie Shell Necklace
A cowrie shell tied to a black cord; adjustable by two knots that slide up and down on the cords. Was a real cowrie shell on a length of leather cord originally but at some point was changed to a plastic replica of a shell on a woven cord.
This necklace has significant meaning for Addy in the stories as it's the cowrie shell her great grandmother brought from Africa, hanging on Sam's shoe lace.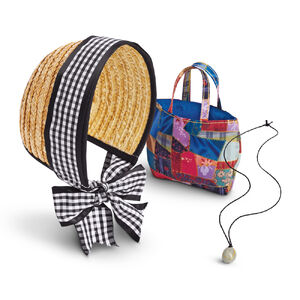 Bonnet
Straw bonnet hat with a black gingham satin tying ribbon. Black bias cotton trim on front and bottom edge. Black tying ribbon is tacked near the front. The ribbon is shorter on the left side, but the ribbon is displayed by the company tied with the bow on the left or right side of doll's face.
Bag
Patchwork style tote bag. Outer print and handles of faux crazy quilt patchwork style fabric with yellow mock-zigzag stitching; inner lining of blue meet dress fabric. Yellow top stitching on edge and handles.
Cowrie Shell Necklace
The cowrie shell necklace is a thinner cord (still adjustable) and a solid molded shell without a gap or shading.
35th Anniversary Edition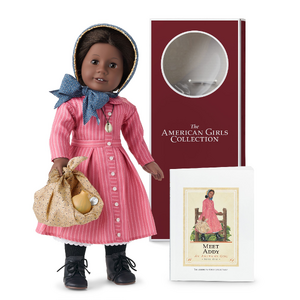 For American Girl's 35th Anniversary, Addy was rereleased as a limited edition bundle. The bundle includes the doll in the Classic Meet Outfit with thin eyebrows, Classic meet accessories, the first edition parchment style of Meet Addy (illustrations by Dahl Taylor, making this the second edition) and an older-style box (modified with visibility window) for a total cost of $150. This bundle sold out in July 2021.
Unlike standard dolls sold at this time, Addy has neck strings. Notably, the cowrie shell necklace is the newer, closed-style molded shell. Her boots have stitched holes around the laces rather than the original metal grommets.
One of a Kind Edition
A one-of a kind Addy, designed by Carly Cushie, was auctioned from September 23 to 26th, with all proceeds donated to Girls Who Code. The auction initial starting price was $300 and final auction price was $1,875.
The doll was dressed in a pink stretch sleeveless cotton dress (with a diamond patchwork bodice and flared skirt), her cowrie shell necklace on a pink ribbon, and the shoes from Joss's Cheer Competition Outfit. The hair was also cut to shoulder length.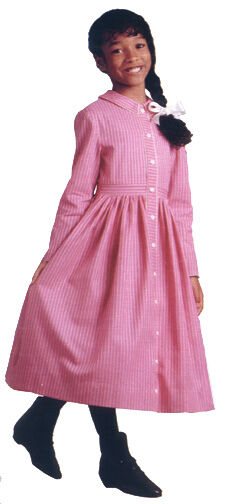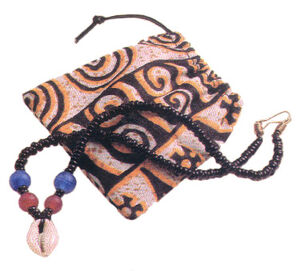 A child-sized outfit was sold:
Striped Pink Dress (also known as the Cinnamon Pink Dress): $75
Addy's Cowrie Necklace (also known as the Cowrie Necklace): $20.
Crinoline Petticoat: $20
Lace Up Shoes: $??
These were phased out around the year 2000.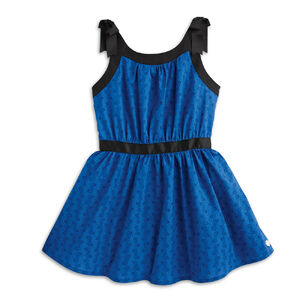 A dress inspired by Addy's BeForever Meet Outfit, the Ribbon Trim Sundress, was available for $42.
An Addy mini doll has been available since the debut of mini dolls in 1995. There are three versions with her meet outfit: the Pleasant Company mini doll, the Mattel mini doll, and the BeForever mini doll.
Pre-Mattel and BeForever Differences
Pre-Mattel Addy dolls have thicker hair; Addy's hair became slightly more fine, though still significantly textured, around 1995.
Mattel Addy dolls have slightly lighter and more red-toned skin tones.
Older versions of Addy (and the 35th anniversary edition) have straight-line eyebrows. The BeForever Addy's eyebrows are feathered.
Trivia
The prototype of Addy's original meet dress occasionally appears for secondary-market purchase. It has the same cut as the released one but has a small cream flower and dot print and a slightly darker, more mauve color.
Some first edition Addy dolls have gray eyebrows and brown eyelashes.
Some first edition Addy dolls have clothing tags with copyright dates of 1986 or 1989; this was later changed to 1993. Some early Addy dolls also had West Germany tagged clothing, even though West Germany ceased to exist with the end of the Soviet Union in 1990.