"Addy" redirects here. For the doll, see Addy Walker (doll).
Addy Walker was the fifth Historical Character of the American Girls, representing the Civil War Era. Addy was released in Fall 1993 and is part of the BeForever collection.
Personality and Facts
Addy is a very brave, loving, thoughtful, and kind child, who often risks her safety for the safety of others. She is very close-knit with her family and is devastated that they are separated early in the series; when they get back together, she is still tied closely to them. Her friends say she has strong "family pride". She does not like slavery or the hard work she endured as a slave. Poppa describes her as being of the age where a child learns they are a slave and the hope they had as a child is being broken by the daily burdens of being a slave. Addy does not think it is fair or right that white people own and abuse black people. At one point, she does not like white people - she even says she hates them - but later on, she becomes less fearful of them. She still, however, finds it grossly unfair that whites and blacks keep separate lives and thinks that they should live together. She is a proponent of fairness, and does not like seeing other people suffer. Addy is also very questioning of the status quo; many times in her series, she questions why colored people have their place in society that is beneath whites, and the answers she is given of "that just being how things are" do not appease her.
Addy tends to leap before she looks; so far, this has yet to get her in any trouble. She is also curious and wants to surge ahead. She does feel she can trust people before she meets them more often than not. Watching anything - people or animals - suffer bothers her. In her heart, she is an optimist and thinks good of people. However, due to her young age, she is easily influenced and upset by other people, especially her classmate Harriet. Addy is also very upset and sometimes ashamed of her poverty status, especially in comparison to Harriet, who has the kind of life Addy expected in freedom. Addy has a lot of pride at times. She wishes her family did not have to work so hard to make a life for themselves in freedom.
Addy is a very intelligent child and good in school; she learns to read and write within months of starting school, she catches up to Harriet's level quickly, does well enough to win a spelling bee in her class, and later is invited to take further education at a prestigious school for colored children. Addy also shows interest in being a teacher when she gets older. After Sarah is forced to drop out of school to make ends meet, Addy offers to teach her so that she can keep learning.
She is not very logical at times near the start of the series and has moments of fancy - especially about life in freedom - but over the course of the series she becomes much more practical, although still given to moments of wishing and dreaming. She still has many moments of idealism, some of which come to happy endings.
Addy can swim; she was taught to swim by her brother Sam back on the plantation. This plays a major part in the first book, Meet Addy. She likes the outdoors and wilderness, but is squeamish about dead animals and injuries.
Addy likes to help her mother in Mrs. Ford's dress shop. She is very hard-working, resourceful and can be shy.
Her full name is Aduke, named after her great-grandmother on her father's side, which means "Much Loved" in Yoruban (a Nigerian language).
American Girl characterizes her as "courageous" and "strong". A featured video describes her as "Resilient".
Family and Friends
Family
Friends and other Minor Characters
Books
See: List of Addy's Books
Other Media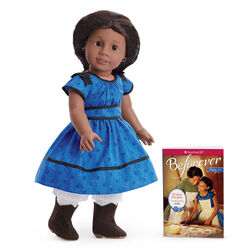 Main article: Addy Walker (doll)
Collection
See: Addy's Collection
Trivia
See also
References
Community content is available under
CC-BY-SA
unless otherwise noted.