"Addy" redirects here. For the doll, see Addy Walker (doll).
Addy Walker is the fifth Historical Character, representing the Civil War Era. Addy was released in Fall 1993 and was part of the BeForever collection and the 35th Anniversary Special Edition Rerelease.
Personality and Facts
Addy Walker is a African-American girl who, at the very beginning of her stories, is enslaved with her family on a North Carolina plantation during the last years of the American Civil War; very early, she escapes with her mother Ruth to the free North and settles in Philadelphia, where she hopes to have her whole family reunited in freedom.
Addy was born in the spring; she does not know the day of her birth and later picks April 9th, due to the celebrations of the end of the Civil War and the assurance she and her family, even not yet united, are all free now. Her full first name is Aduke after her great-grandmother on her father's side a name which means "much loved" in Yoruba (a Nigerian language).
Like many enslaved children, she is forced to do hard labor in both the fields and serving in the big house as a house servant. Seeing this in her breaks her father Ben's heart, seeing her stooping like an old woman and being beat down every day. She (rightfully) despises that she was ever enslaved and does not like it, or the hard work she endured as an enslaved child. Her father says that she's at the age where a child learns they are enslaved and the hope they had as a child is being broken by the daily burdens of being so. At least once while enslaved, Addy is so despondent that she vows she would do anything for God if He would let the family escape slavery; she is warned by her uncle Solomon not to bargain with Him.
She is close to her family and despondent when they are separated: first when her enslaver sells her father and older brother Sam away and then--in escape--when she and her mother must leave her baby sister Esther behind with Auntie Lula and Uncle Solomon rather than risk being caught in the escape by taking her with them. Addy aches for the majority of her series to have her entire family reunited in freedom and often thinks about them and where they could be as motivation in her day to day life. She does everything she is capable of to help them be reunited, a goal that is not fully realized for over a year after her and Ruth's escape and not all at once or as full as she had hoped given that Solomon dies before arriving to Philadelphia and Lula dies soon after arriving. After they are reunited, she remains tied closely to each member of her family (even when Esther sometimes bothers her or gets into her things). Her friends say she has strong family pride.
Addy is a brave, loving, thoughtful, and kind child, who often risks her safety for the safety of others. When Addy first arrives in Philadelphia, she is scared of being alone in the city due to being unused to the large city crowds and fear of getting lost (in part because she cannot read) but she slowly becomes braver and more confident in moving around, in part with Sarah Moore's guidance. She still remains shy at times, especially around people she has just met.
Addy is a very intelligent child, something her father sees even while they are enslaved, and does very well in school; she learns to read and write well within months of starting school, catches up to Harriet's level quickly, does well enough to win a spelling bee in her class shortly after her arrival, and later is invited to take further education and enrolls at The Institute for Colored Youth which will help her goal of being a teacher as she grows up. She is also willing and able to teach others; she starts by teaching her mother to read and write, using cooking dough to shape out letters and the names of their family and beans to help Ruth learn to read, write, and count. She later helps her father and brother learn simple reading and writing, and after Sarah is forced to drop out of school to help her family make ends meet Addy offers to teach her so that she can keep learning. By the time of Shadows on Society Hill, Addy is enrolled in I.C.Y. and is studying Latin among other subjects as part of her curriculum. Addy is very resourceful and helpful; when Ruth is upset that she can't read to deliver the packages that Mrs. Ford asks her to, Addy--who is not yet a great reader--asks Sarah to help her deliver the packages as she can both read and knows her way around the city. Once Addy shows that she can assist in the shop by picking up and dropping off orders for Mrs. Ford and will not be underfoot, she is invited to spend time in the shop (helping tidy up) and is free to keep the tips she earns for her deliveries.
Addy does not think it is fair or right that White people own and abuse Black people. She often does not like White people--she even says she hates them--and even as she becomes less fearful of them she does find many of them and their actions oppressive and racist towards her and other Black people. She finds it grossly unfair that Whites and Blacks are expected to keep separate lives and thinks that they should live and work together. She is a proponent of fairness and does not like seeing other people or animals suffer. Addy questions the status quo many times in her series, especially why Black people have a place in society that is expected to be beneath Whites, and the answers of it just being how things are do not appease her.
Addy has moments of fancy and hope--especially about what life in freedom will be like to start--but slowly becomes much more practical (although still given to moments of wishing and dreaming). She still has many moments of idealism, some of which come to happy endings. Addy sometimes leaps before she looks, but also learns to think on her feet to keep herself and others out of danger. She is curious and wants to surge ahead. She does feel she can trust people before she meets them more often than not, for good or bad. In her heart, she is an optimist and thinks good of people. However she initially is easily influenced and upset by other people, especially her classmate Harriet Davis. Addy can be very upset and sometimes ashamed of her poverty status--especially in comparison to Harriet, who has the kind of luxurious life Addy expected in freedom. Addy has a lot of personal pride and wishes her family did not have to work so hard to make a life for themselves in freedom, but is often told by her family there is no need to be ashamed of the fact her family works to get by; they are willing to sacrifice to help her meet her goals.
One of her favorite treats is ice cream; she tastes it for the first time at a church social and loves it. Her favorite color is red.[3] Addy can swim; she was taught to swim by her brother Sam back on the plantation. She likes the outdoors and wilderness but is squeamish about dead animals and injuries.
American Girl characterizes her as "courageous" and "strong". A featured video describes her as "resilient".
Family and Friends
Family
Friends and other Minor Characters
Books
See: List of Addy's Books
Other Media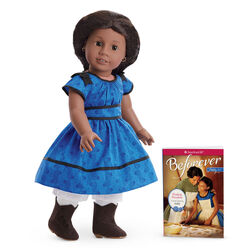 Main article: Addy Walker (doll)
Collection
See: Addy's Collection
Advisory Board
Addy was the first character released by American Girl to have an advisory board: The members were:
Lonnie Bunch, founding Director of the Smithsonian's National Museum of African American History and Culture;
Cheryl Chisholm, producer and (former) director of the Atlanta Third World Film Festival;
Spencer Crew, Robinson Professor of American African American, and Public History at George Mason University who at the time was a curator and historian at the Smithsonian;
Violet Harris, researcher and expert on multicultural literature and Black American children's literature
Wilma King, historian and expert on American slavery;
June Powell, (former) expert of the National Afro-American Museum and Cultural Center in Ohio; and
Janet Sims-Wood, (former) librarian and scholar at Howard University who specialized in the stories of Black women.
Trivia
See also
References