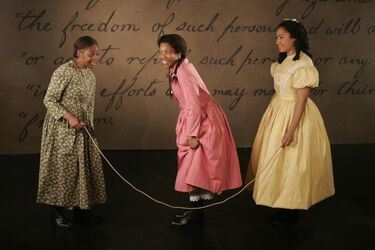 Addy: An American Girl Story was an live action play based on the character Addy Walker and her stories.The play first debuted at the Seattle Children's Theatre in Charlotte Martin Theatre on April 13th, 2007 and ran through June 17, 2007. A tour was later made around the country with a traveling cast.
Addy is the only historical character to have a live-action play as of 2020.
Seattle Cast
Seattle Crew
Cheryl L. West: Playwright
Carey Wong: Set Design
Rick Paulsen: Lighting
Melanie Taylor Burgess: Costume Design
Plot
The plot mostly uses various scenes from Addy's central series. A small scene is also modified from the short story Addy Studies Freedom.
Play/Book Series Differences
Rather than a second enslaver discussing selling Poppa and Sam, Master Stevens is shown talking with his wife.
Sam is employed through the play as a "spirit" in Addy's mind after he and Poppa are sold, and "communicates" with Addy in her mind (through imaginary talks) during the time they are separated.
Uncle Solomon is not cast or mentioned.
The spelling bee from Addy Learns a Lesson is set on Christmas Day; this is where Poppa sees Addy after his return.
There is no confrontation from Mrs. Howell regarding the construction of the Tartan Plaid Dress; it is returned for poor fit, but she and her daughter are not seen.
To minimize set pieces, the Walkers do not move into the boarding house after Poppa's return and remain in the garret above Mrs. Ford's Dress Shop.
Rather than the members of the boarding house celebrating Addy's birthday (as they are not characters), Mrs. Ford participates in the celebration.
Addy only has two outfits from her collection, her Tartan Plaid Dress for the holiday spelling bee and scenes and her Classic Meet Dress for most other scenes
The actions of Addy Saves the Day are minimized down to Harriet learning about her uncle's passing in war and Sam's return. The church fair is only seen briefly.
Auntie Lula does not show any signs of illness upon her return; she returns with Esther and there is no indication she will pass on soon.
To minimize roles and prevent child actors being used, Esther is played by a prop-doll. Therefore at the end, she has not shown any aging and is still an "infant" in arms.
Nationwide Tour
The play had a twenty-one city tour across the US with Kids Entertainment.
Gallery
Items Associated With the Play
Note: None of these items were available to be purchased at any of the productions of the play and are simply seen in the scenes.
Links
Community content is available under
CC-BY-SA
unless otherwise noted.