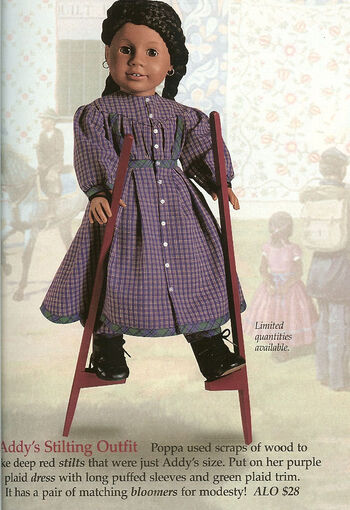 Addy's Stilting Outfit was introduced to Addy's Collection in 1997 as a Limited Edition Outfit and retired in 2000. Retail cost was $28.
While not associated with any book, the outfit was illustrated on the covers of the last individual volume of Happy Birthday, Addy! and Addy Studies Freedom.
Dress
Purple plaid dress. Long puffed drop sleeves. Green plaid trim at bodice, waistband, and skirt hem. Nonfunctional white buttons down the front. Velcroes up the back.
Bloomers
Purple plaid bloomers. Green plaid trim at ankles. Elastic waistband.
Stilts
Deep red wooden stilts. Elastic loops for hands and elastic on foot rests to hold doll's feet. It is not possible for the doll to stand or balance unsupported on the stilts.
Trivia
According to the information pamphlet, Ben Walker made the stilts for Addy from scrap wood, while Ruth Walker designed the dress from images seen in Godey's Lady's Book.