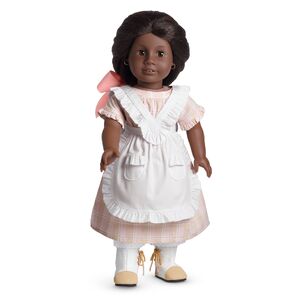 Addy's Plaid Summer Set was introduced to Addy's Collection in 2011 and retired in 2016. Retail cost was $32.
Dress
Light pink, beige, and white cotton plaid dress. Boat neckline. Gathering along trim of torso. Cap-length bell sleeves with ruffled hems. Velcro in back.
Pinafore
White ruffled pinafore. Sleeves cross shoulders in V shape and attach at center of front apron. Apron has two pockets with ruffled trim at top. Ruffled trim around hems and sleeves. Ties in back.
Hair Ribbon
Pink hair ribbon. Ribbon is a darker tone than the pink on the dress.
Boots
Beige and white boots. White canvas with center seam. Beige inner laces and bow. Black soles. Like the Lace-Up Boots and the boots in Addy's Dress and Sewing Set, these boots lace up the inside.