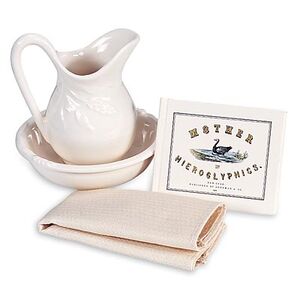 Addy's Nighttime Necessities was introduced to Addy's Collection in 1993 and retired in 2006. Retail cost was $18.
Pitcher
Cream porcelain water pitcher. Raised wheat plant design near handle.
Bowl
Cream porcelain shallow bowl. Raised wheat sheath on rim.
Towel
Off white cotton towel. Light woven rectangular design.
Book
Abridged copy of Mother Goose in Hieroglyphics.
See Also