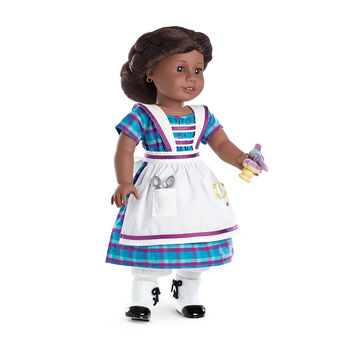 Addy's Dress and Sewing Set was a Limited Edition Outfit introduced to Addy's Collection in 2015 and retired the same year. Retail cost was $48.
Dress
Blue, purple, and green below-the-knee multicolored cotton plaid dress. Open boat neckline with slight gathering at bias trim edging. Raglan cap-length bell sleeves. Inset waistband at middle. Velcros up the back.
Pinafore
White cotton pinafore. Wide shoulder straps with two center decorative straps set to waistband and tie; front apron with two front hemmed rectangular pockets. Glossy plum grosgrain ribbon over edge of shoulder straps, center decor straps, at waistband, and hem of apron. Ties at back waist.
Stockings
White knit over the knee stockings, similar to the set included in the BeForever meet outfit.
Boots
White canvas calf boots with center seam. Black inner non-functional laces and bow. Black patten-leather toes. Black soles. Velcro up the back. These are similar to Addy's Lace-Up Boots.
Measuring Tape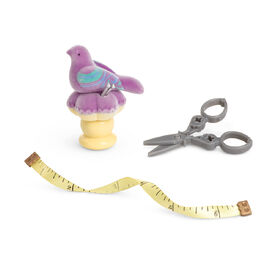 7" (18cm) length measuring tape of pale yellow ribbon. Plastic tips at ends. Markings every 1/8th inch up to six and half inches; accurate to inch markings.
Scissors
Grey plastic miniature sewing scissors. Open and close, but do not cut.
Pincushion
Bird-and-spool plastic pincushion. Flocked light purple bird with bead black eyes and blue and green striped wings. Bird is sitting on purple cushion with zig-zag edge and cream bottom; cream spool-style handle. Two simulated silver non-removable "pins" on left side under bird.
Child-sized clothing inspired by the outfit was available:
Periwinkle Plaid Top: $36
Classic Crops: $38