Addy's Blue Dress was introduced to Addy's Collection in 2004 as Addy's Kite-Flying Outfit. It was revamped in 2005 to Addy's Flower-Picking Outfit (also called Addy's Dress and Bouquet), then revamped again in 2013 to Addy's Blue Dress before it was retired in 2014.
Retail cost was originally $22 and later increased to $28. When the flowers were removed, it was lowered to $24.
Dress
Light blue short sleeved lightweight linen dress. Square boat neckline. Gathered bodice. Tucked waistband. Flounced short sleeves. Decorative tucks in skirt. Velcros up the back.
Ribbon
Black gingham wide hair ribbon. V-cut Ends.
Kite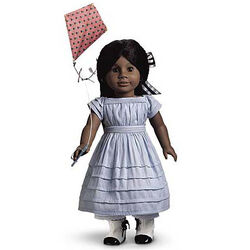 Toy kite. Print pink fabric on plastic frame; pink and blue grosgrain ribbons on tail. Wire "string" and handle.
This was removed in 2005 and replaced with the bouquet.
Bouquet
Silk flower bouquet. Yellow, blue, white, and red flowers.
In 2008 the bouquet was removed; it was restored in 2011 before being removed a final time in 2013.
Community content is available under
CC-BY-SA
unless otherwise noted.