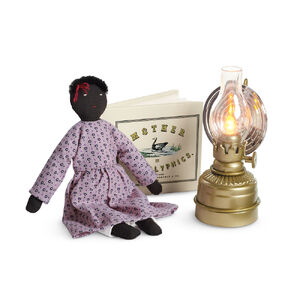 Addy's Bedroom Accessories was introduced to Addy's Collection in 2015 and retired in 2017. Retail cost was $42.
Lantern
Book
Abridged copy of Mother Goose in Hieroglyphics.
Doll
Rerelease of Ida Bean doll: Black cotton doll with yarn hair. Red yarn ribbon in hair. Embroidered white eyes and red mouth. Non-removable purple print long sleeved dress and white pantaloons. Filled with polyfil beads to simulate the feel of "beans".
See Also