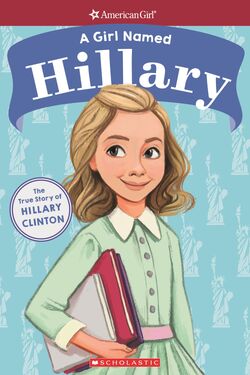 The A Girl Named series is a Scholastic-published biographical book series started in 2018 as part of the partnership between the company and American Girl.
Overview
The biographical books focuses on the life of their subject before notable significant events they are most known for, focusing especially on some events in their youth. The covers show the person at about the age of seven to ten years, the targeted audience of the books, with a faint tiled background showing their notable focus.
Each book is about fifty pages long with simple text divided into very short chapters; some words are bolded with their definitions listed in the end glossary. Every page has or faces an illustration of events from the person's real life, done by Melissa Manwill.
At the end of every book is a glossary, timeline of the person's life, and a short article on a modern girl who ties in some way to the person's life events.
Currently no products associated to the series are sold through American Girl directly, including the books. The books carry official American Girl logos and marketing.
Books in the Series
See Also
Community content is available under
CC-BY-SA
unless otherwise noted.