The AG Star Peplum Tee is a Truly Me outfit released in 2019. Retail cost is $10.
Shirt
White peplum style tee. Fabric has colorful speckles printed on it. Pink stylized American Girl logo printed in center of shirt at a diagonal angle. Graphic features "AG" in capitalized, outlined letters with the star logo between them. Velcro at back of shirt.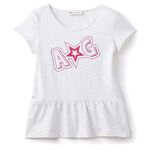 The matching shirt for children is available for a cost of $24.