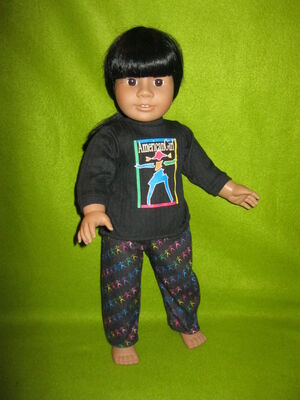 The AG PJs I is an American Girl of Today outfit released in 1996 and retired in 1998. Retail cost was $18.
Shirt
Black long-sleeved pajama shirt. Blue, green, yellow, pink, and white "American Girl [of] Today" logo on center front.
Pajama Pants
Dark grey pajama pants. Diagonal stripes of AGoT logo silhouettes; each girl is a different solid color and forms a rainbow effect. Ankle length.
Book
Miniature version of Help! (1st edition)
The matching girls' pajamas were available for a cost of $??.
See Also