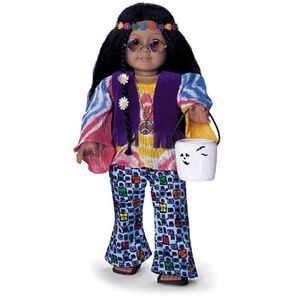 The 60's Hippie (also known as the Hippie Costume) is an American Girl of Today outfit released in 1998 and retired in 2003. Retail cost was $24.
Pants
Multi-colored bell-bottoms. Print is of yellow, orange, green and red square flowers over a deep blue checked lattice on a pale blue background.
Shirt
Tie-dye shirt. Fabric has swirls and waves of blue, dark pink and yellow on white crinkled "peasant blouse' fabric. Long flared sleeves.
Vest
Purple velvet vest with fringe around hem. The vest is cut short enough for the shirt hem to be visible beneath it.
Daisies
Two daisy hair clips. Shown as clipped into a small accent braid in doll's hair.
Beads
Two strings of beads. One is made of small, rainbow-colored, embroidered flower shapes and is shown worn around the head. The other has tiny multicolored beads with a large silver peace symbol pendant to be worn as a necklace. Peace symbol pendant is dark silver and has tinted plastic film.
Glasses
Granny-style glasses. Round silver frames, gradient purple-to-gold lenses.
Sandals
Brown suede sandals. Flat bottom with three straps criss-crossed over top of foot. Brown elastic band around ankle.
Headband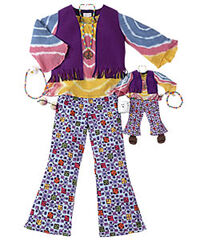 Multi-colored daisy headband.
Bucket
White candy bucket with a ghost's face and two bats.
The children's costume was available for $48.