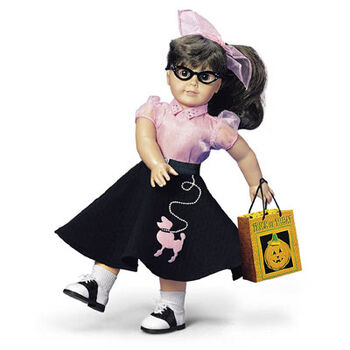 The 50's Sock Hopper is an American Girl of Today outfit released in 1998 and retired in 2001. Retail cost was $24.
Skirt
Black quilted style fabric. Black elastic waistband. Center of waist has attached silver buckle with faux pearl accents in center. Pink felt poodle appliqué on left side of skirt. A faux pearl strand extends from the waist down to the dog's collar to replicate a leash. Black felt collar on dog's neck with four silver rhinestones.
Blouse
Pink organza blouse. Puffed sleeves with single layer of organza. Torso and collar have two layers. Collar has five silver rhinestones on each side. Velcro in back
Shoes
Black and white saddle shoes. Black plastic soles. White vinyl with black vinyl pieces attached over front and at back of shoes. White shoelaces.
Socks
White ankle socks.
Hair Scarf
Square pink organza scarf.
Glasses
Black plastic cat-eye glasses. Three rhinestones on each edge of frame.
Treat Bag
Orange treat bag with a picture of a jack o'lantern and the words "Trick or Treat." Opposite side of bag has yellow background with different jack o'lantern design and the word "Boo." Black handles.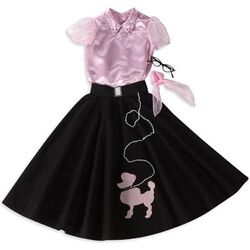 The children's costume was available for $48.
Trivia